Six Staircase Maintenance Tips for Home Owners
Stairs are a great alternative to elevators. They don't have any moving parts and don't require weekly maintenance. You also do not have to pay for the electricity to run them, and they're always working, day and night.
That being said, they most definitely need some periodic maintenance; otherwise, you'll have a big expense on your hands. Either you'll get sued by someone who fell down your staircase or you will end up in the hospital after falling down your own stairs.
Many people choose iron-based precast staircases for their durability and longevity; however, iron does corrode over time, especially in wet weather. Besides the obvious falling hazard, who wants an unsightly rusting staircase devaluing their property?
Tips on How to Protect Your Exterior Iron Stairs
At Capital Deck & Stair, we've applied our 30 years of experience in both waterproofing and installing iron-based precast staircases to give you our six best staircase maintenance tips.
Tip One – Be Proactive and Look for Early Signs of Step Damage
Keep a close eye on your stair treads for signs of damage. This could be a stair tread that feels loose under your feet or has cracks appearing on the surface. Repairs at this early stage are usually quick and inexpensive. This is the time to call in the experts so that minor problems don't become major problems.
Tip Two – Inspect Your Outdoor Iron Stair Railing for Signs of Rust or Paint Flaking
It doesn't take very long for rust to set in, so make sure the protective coating on your stair railing isn't started to crack or flake off. The intense heat in the summer causes expansion and contraction of the iron railing so paint and other protective coatings can start to crack and then flake off when people's hands are gripping the railing.
Tip Three – Check the Handrails to See That They Are Not Coming Loose from Their Mountings
Handrails can sometimes become loose from excessive use or poorly attached mountings. Make sure your railings are firmly attached to the wall or wherever they are mounted.
Tip Four – If You Have Metal Stairs, Inspect the Holes in the Treads
Some outdoor metal stairs have treads that are perforated to allow water to drain through.   These small holes are often the first places to show signs of rust. Look for holes that have begun to rust or holes where the protective coating is starting to flake off.
Tip Five – Go Beneath Your Stairs and Inspect Them from Below
It's not enough to just examine the stairs as you're walking up and down the staircase. You could have unseen damage right under your feet, beneath the staircase. If space permits, poke your head underneath the staircase to see if you notice any signs of damage or rust. Just be careful to watch your head.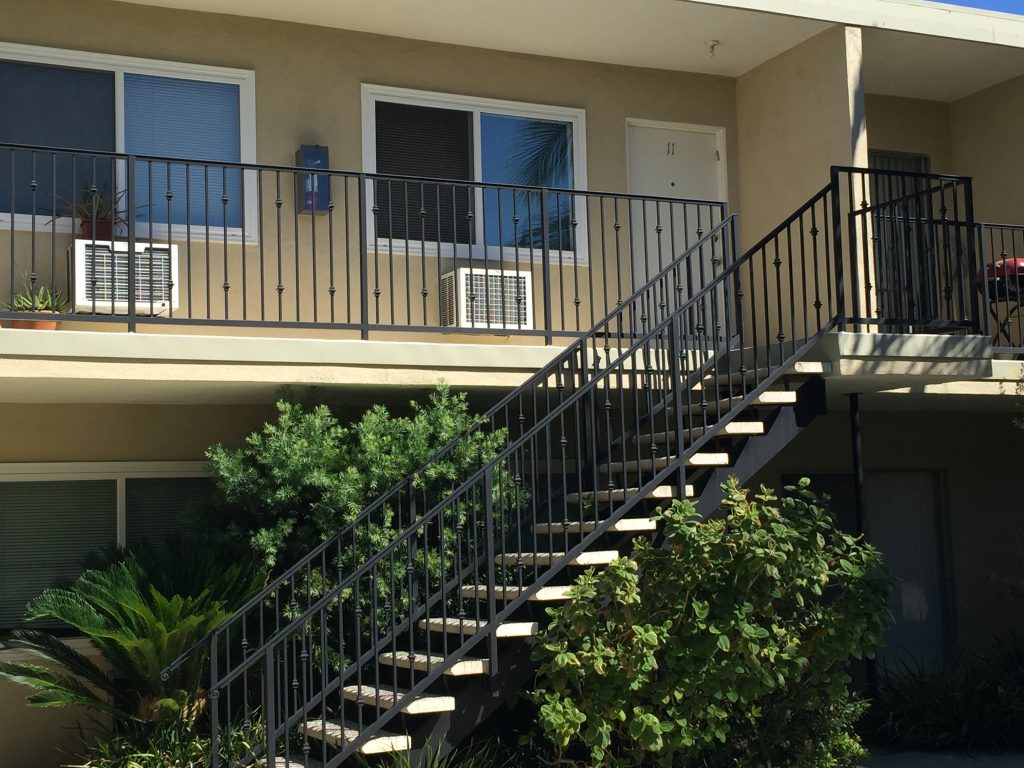 Tip Six – Consider Waterproofing Your Iron Staircase
Waterproofing exterior stairs will extend the life of your stairs and the iron railings and help prevent water damage. This is especially important if you have iron stairs outdoor that are exposed to the elements.
If you see any of these signs of damage, or just want an estimate on waterproofing or upgrading your staircase, give us a call at 424-339-0953. We service Los Angeles and Orange County.
Smart Solutions to Prevent Staircase Slip and Falls
Anyone who has ever lived or worked in a building without an elevator knows the pitfalls of a staircase. Besides providing extra and sometimes unwanted exercise, staircases can be a falling hazard.
Fortunately, for property owners who regularly maintain their stairs, little can be done if someone, through their own misstep, falls down the stairs. Climbing stairs, after all, does require some amount of care. If a handrail is provided and the stairs are well-maintained, the owner or manager shouldn't be held liable.
For the record, since we are waterproofing contractors and installers of fiberglass and iron staircases and not lawyers, we advise you to check with your insurance company, just in case.
It's Just Good Common Sense to Keep Your Staircase Well-Maintained
The exception to the above is if your stairs are not well-maintained or are slippery—that's where you can run into legal problems. Stairs, after all, require a stair safety protocol. If you let a known problem persist on your staircase without addressing it, you run the risk of being held liable for significant damages due to your neglect. This is a legal concept known as "premises liability."
Practice Stair Safety and Don't Let Your Staircase Become a Falling Hazard
Items left on stairs—like balls, children's toys, and food—are all easy to slip on. These stair hazards are a reality for anyone with a staircase, no matter how well it has been maintained. Ensuring your staircases are free of hazardous objects is something that anyone can do.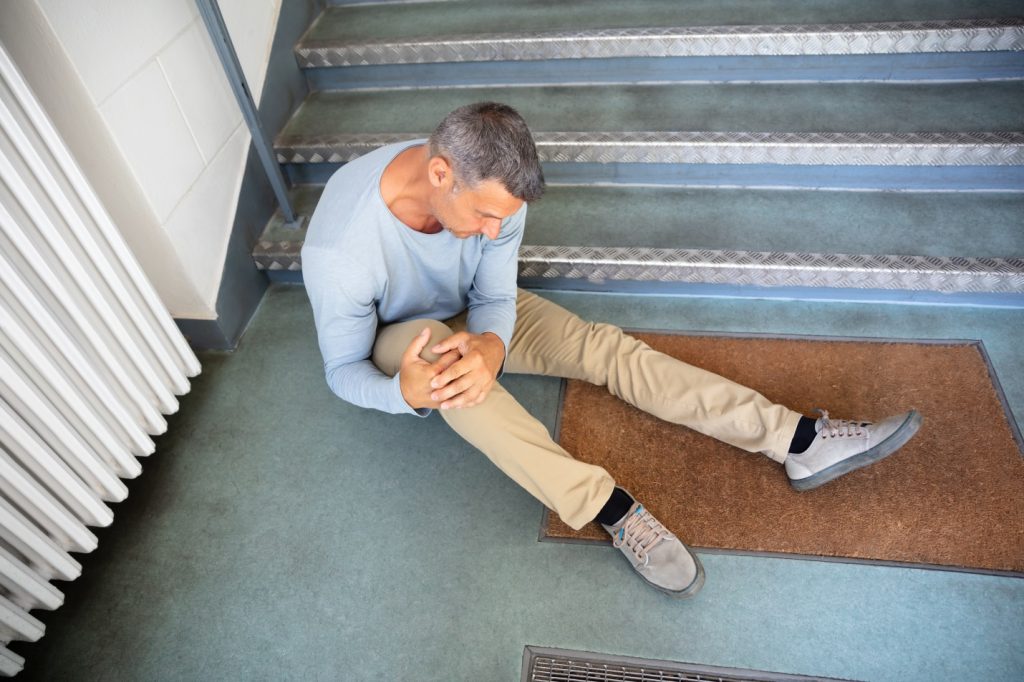 Other stair hazards, however, will require professional help. These include fixing broken or chipped stairs, loose stair treads, and stairs that are slippery.
Should I Replace or Repair a Damaged Fiberglass Staircase?
Whether you will need a brand-new staircase or just a repair will depend on several factors. You will definitely need to have each of your fiberglass steps inspected by an expert before an estimate can be given and the appropriate choices made. If you are upgrading your property, you might decide to update the look with a brand-new staircase, instead of repairing the old.
Maintain Your Stairs so You Don't Have to Replace Them
For more than 30 years, our experts at Capital Deck & Stair have been waterproofing staircases to help prevent them from becoming a slip and fall hazard. Our waterproofing specialists can advise you on whether your stairs need waterproofing, general maintenance, or replacement.
If You Are in Need of a New Staircase, Then You Have Several Options
Magnesite and fiberglass staircases provide exceptional performance and durability, as well as aesthetics. The advantage of these types of stairs is that they are impact-resistant and durable and strong, and they provide a clean and classic look.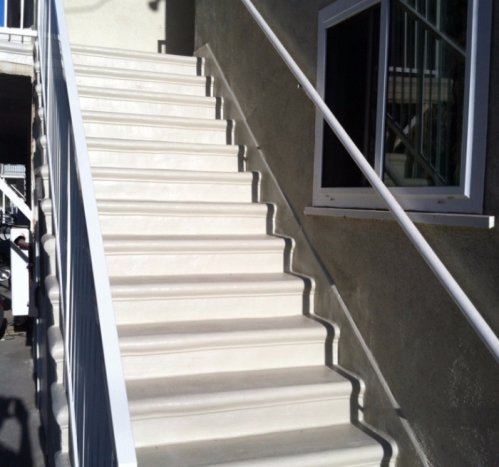 Precast and iron-based staircases are sturdy, durable, low-maintenance, long-lasting, and aesthetically pleasing. The stair treads are also easily replaceable if one of them gets damaged.
Taking the First Step to Fix Your Outdoor Stairs
If you are in need of a staircase repair or a brand new staircase, our experts will walk you through each step of the process to determine your staircase needs.
We can also send out one of our staircase specialists to evaluate your existing structure to determine whether it's suitable for a precast and iron staircase or a brand new set of fiberglass stairs.
If you're in Los Angeles or Orange County, give us a call at 424-339-0953 and we'll give you a free estimate.