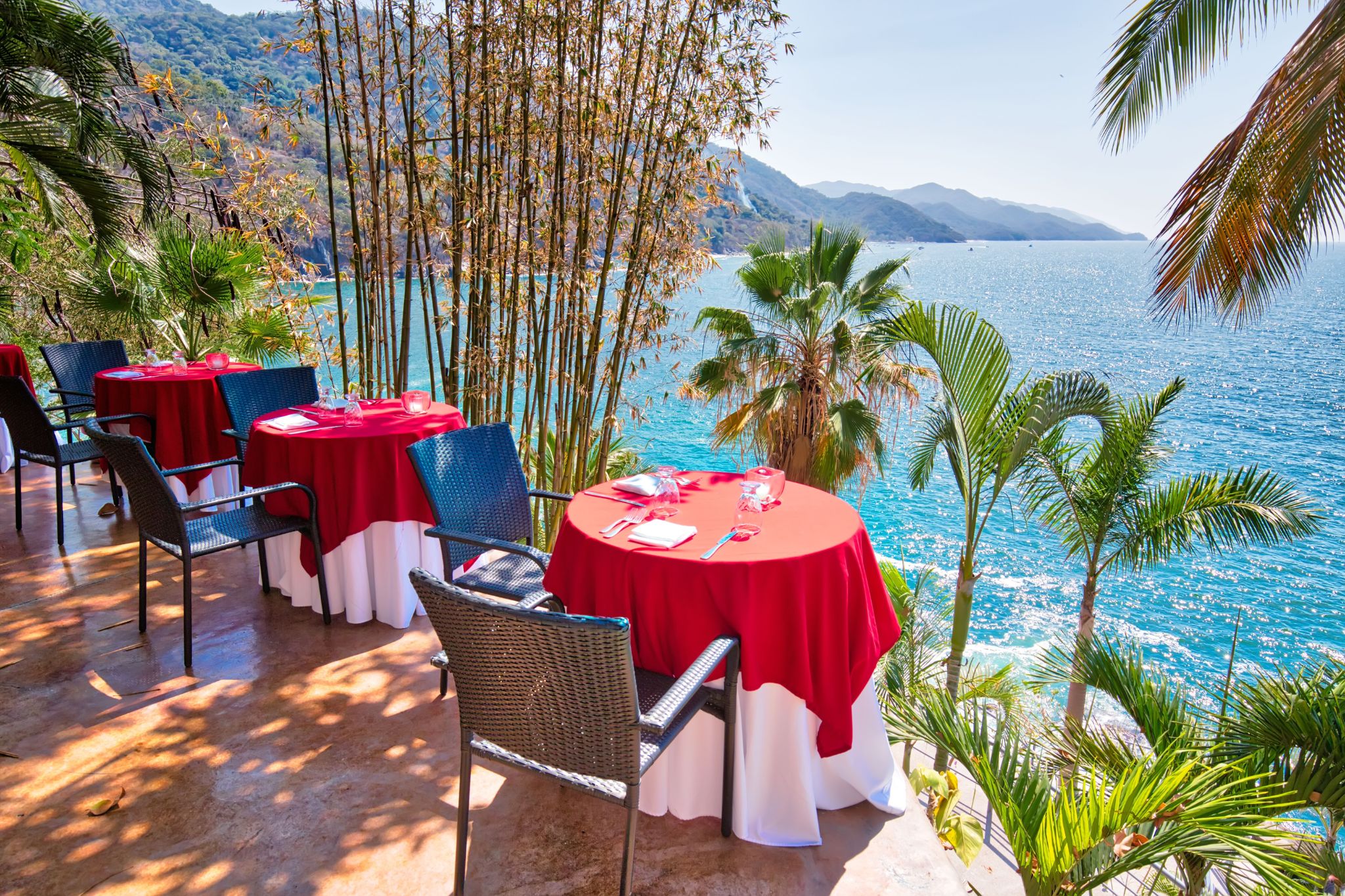 Whether it's an outdoor dining area or a simple entryway, adding a deck to your commercial property is a great way to add value and grow your business.
Unlike residential decks, however, commercial decks are subject to additional building requirements and regulations to help ensure people's safety. As a result, designing and building a commercial deck is somewhat more involved than many might think, given the addition of minimal requirements for construction types, means of egress, and even lighting.
Thankfully, commercial deck requirements are fairly easy to navigate with help from the International Building Code. Read on to learn more about what's involved and how you can build the perfect commercial deck that fulfills both code requirements and customer demands.
Commercial vs. Residential Decks
Though commercial and residential decks often look different, their biggest differences are the codes and regulations that determine their construction. Here, where the International Residential Code (IRC) regulates how residential decks and buildings are built, the International Building Code (IBC) regulates their commercial counterparts.
While both the IRC and IBC share similar basic requirements for structural integrity and other engineering factors, the IBC adds additional measures to accommodate the extra capacity and foot traffic expected from commercial decks. Most of these measures are in place to make buildings and decks easier to exit in the event of an emergency.
Beyond the IBC and other baseline regulations, there are several other commercial deck requirements to consider when designing a commercial deck. In addition to layout, size, and aesthetic design, you may also want to consider waterproofing or other surface treatments, depending on your deck's intended purpose. A hotel pool deck, for example, would probably require a waterproof coating for safety and water damage protection.
Commercial Deck Requirements
As mentioned in the previous section, most commercial deck requirements are regulated by the International Building Code (IBC). While the IBC's complete requirements are beyond the scope of this guide, the commercial deck requirements covered here should serve as a solid baseline. Even so, you'll likely want to employ a design professional well-versed in the IBC to help ensure that you meet these requirements.
Type of Construction
According to the IBC, the "type" of construction refers to the materials used to build commercial decks and structures. The IBC breaks down construction materials into five types, depending on their combustibility and the fire resistance of their assemblies:
Type I: Fire Resistive
Type II: Non-Combustible
Type III: Ordinary Construction
Type IV: Heavy Timber
Type V: Wood Frame Construction
Though it's possible to use each type of material for commercial deck construction, the deck's use, capacity, and means of egress (exits) will determine what materials can be used. For example, in Type I and Type II buildings built from fire-resistive and non-combustible materials, decks that don't serve as a required exit can still be built from fire-treated wood with untreated wood hand railings.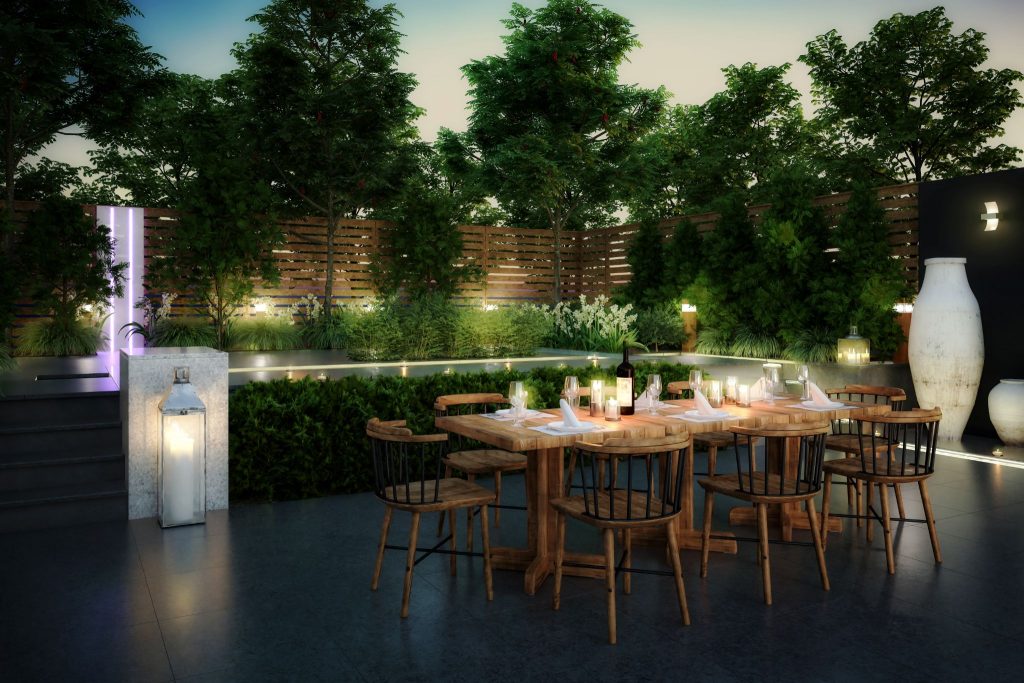 The details don't stop there, however: Even for Type III, Type IV, and Type V decks built from combustible materials such as wood, their final assembly may still need to be fire-resistive in some way. In summary, you can build a commercial deck for nearly any material as long as it satisfies IBC requirements—all the more reason to check with a registered design professional before building.
Occupancy Type and Capacity
The occupancy type and capacity of your deck is another key factor in determining a commercial deck's materials and design. While the IBC defines several occupancy types, those most related to commercial deck requirements include:
Business (B)
Assembly (A)
Mercantile (M)
Residential (R)
Many commercial decks fall under occupancy type A, which includes everything from restaurants to swimming pools and stadiums. Once you know your occupancy type and the intended capacity/load of your space, the IBC will define maximum floor area allowances per person, required strength, and other important design considerations.
Occupancy type and load also determine the number of exits required, where a deck might potentially serve as one. For occupancies over 50, for example, the deck must include exit signs for the deck exit and pathway lighting, among other considerations.
Means of Egress
Your deck's "means of egress" refers to its exit(s), such as attached stairs, ramps, or buildings. How exits are designed is a crucial safety consideration, as an emergency situation may require large amounts of people to safely exit the deck via stairs or a ramp in as little time as possible.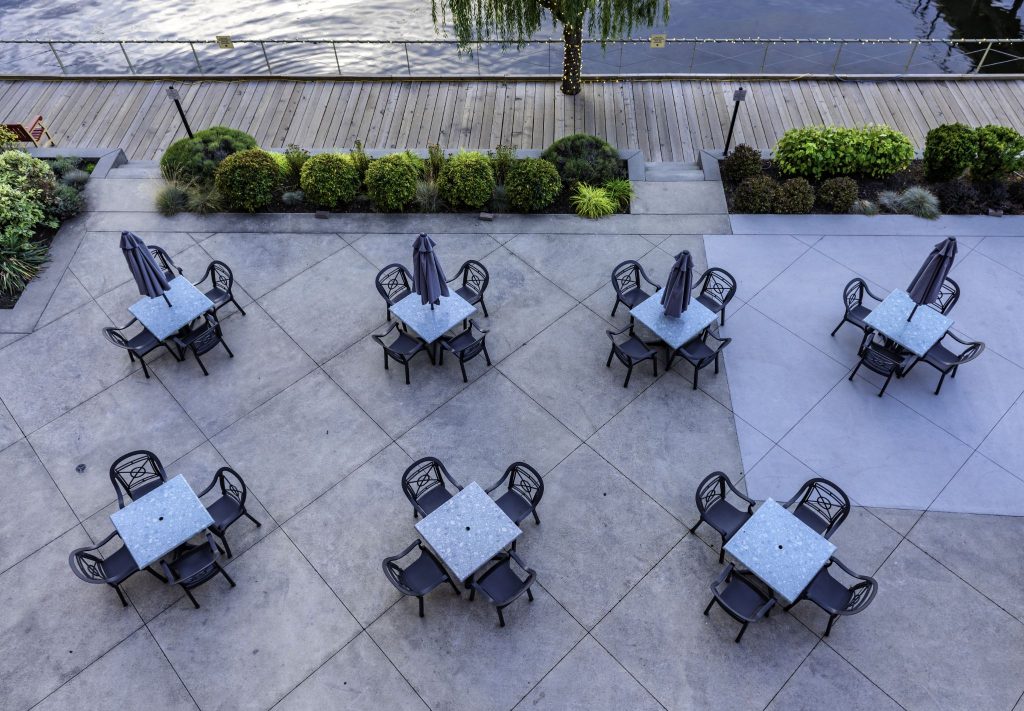 The design and number of exits is ultimately determined by the size and occupancy of your deck; however, all decks must have at least one accessible exit that isn't blocked by fences, gates, and tripping hazards. Exit walkways must also be slip-resistant, making waterproof coatings or non-slip surfaces crucial for deck construction.
Other Requirements and Considerations
The IBC outlines several other commercial deck requirements, including lighting and elevation changes, which both affect the design of your deck's means of egress. For example, a deck with a high elevation may require a multi-part staircase or ramp, and all exits must be illuminated to a certain degree.
Note that the requirements outlined here fall outside the scope of aesthetic preferences, local HOA requirements, and so on. You may encounter additional commercial deck requirements during the design and construction process; however, you'll probably want to consider a few other safety recommendations as well.
Deck Safety Recommendations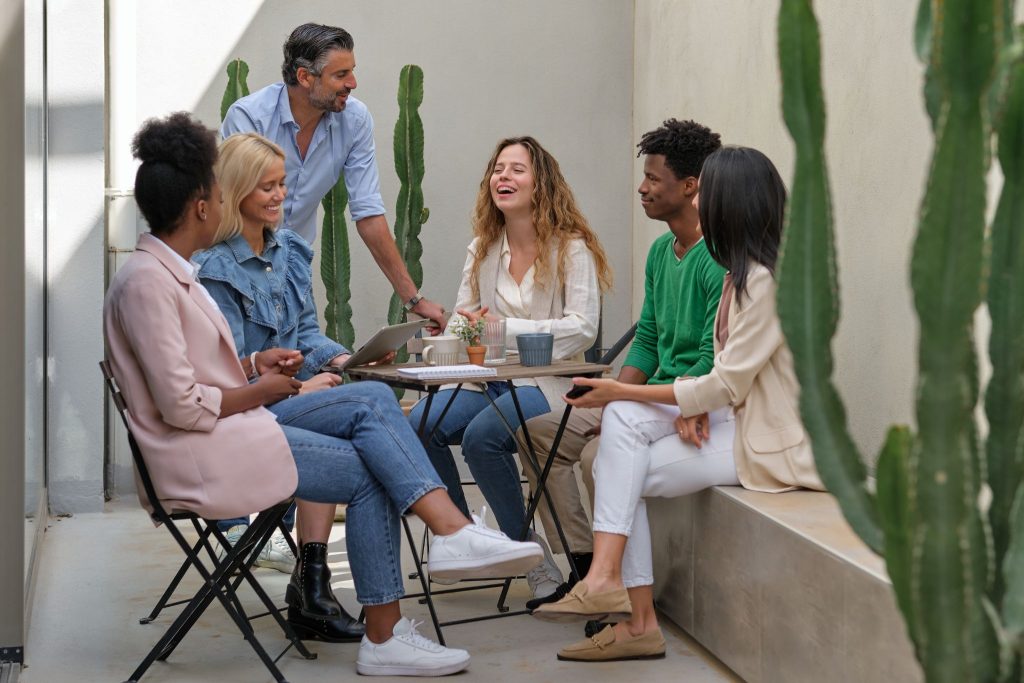 Though the IBC is a great baseline for ensuring safety, there's always more you can do. Safety isn't just important during an emergency; it's also important for ensuring that your customers and employees are able to use the deck on a regular basis without risk of slipping, falling, and so on.
Deck finishing is one important way to guarantee your deck's safety, appearance, and long-term durability. Regardless of the material, water infiltration poses the biggest threat to your deck's safety and structural integrity, making waterproof coatings an essential part of deck construction.
For more information on our waterproof coating services, call the Capital Deck & Stair team at (424) 339-0953.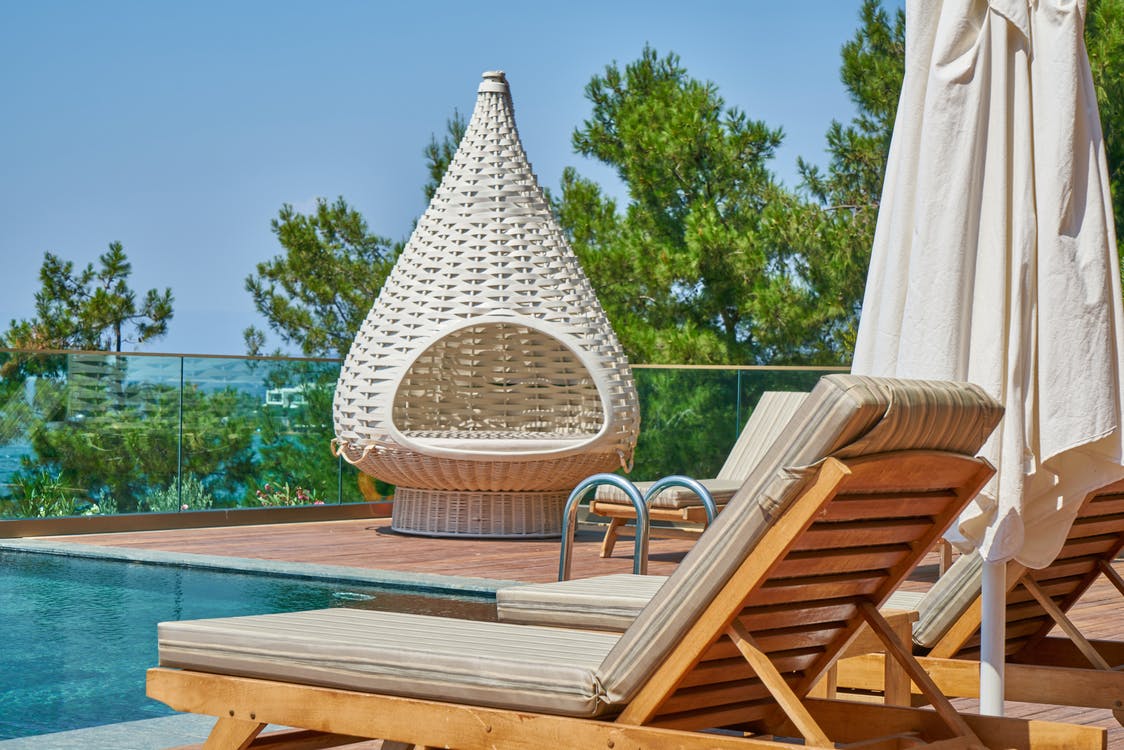 The ideal pool deck should strike a perfect balance between form and function, serving as a visually stunning gathering place while also providing a safe surface for (wet) foot traffic. As a result, there's a lot to consider when designing your pool deck. This short guide will explore a few of the most crucial considerations.
Size
The size of your pool deck is ultimately determined by the size of your pool. There's no exact formula here, however: Just as you probably wouldn't build a foot-wide path around your pool, you probably wouldn't build a deck the size of a parking lot.
Ideally, your pool deck should surround most of the pool while also providing space for additional walkways (such as to and from the house) and any patio/sitting areas you'd like to have. Again, size is determined by both the size of your pool and, perhaps most importantly, how you'll plan to enjoy it.
Appearance and Aesthetics
Just like with size, your pool will help determine the aesthetics of your deck. An above-ground pool, for example, will likely require a raised deck surrounding it, which will probably connect to a new or existing deck extending off your house. By contrast, an in-ground pool often utilizes a patio-like deck surface.
In any case, you have a lot of options when it comes to choosing the appearance of your pool deck. While you should try to match both the house and your landscaping, many pool decks can serve as an aesthetic foundation for your entire property. As a result, you should be careful to consider the appearance of your deck, knowing that it will easily become a focal point!
Materials and Durability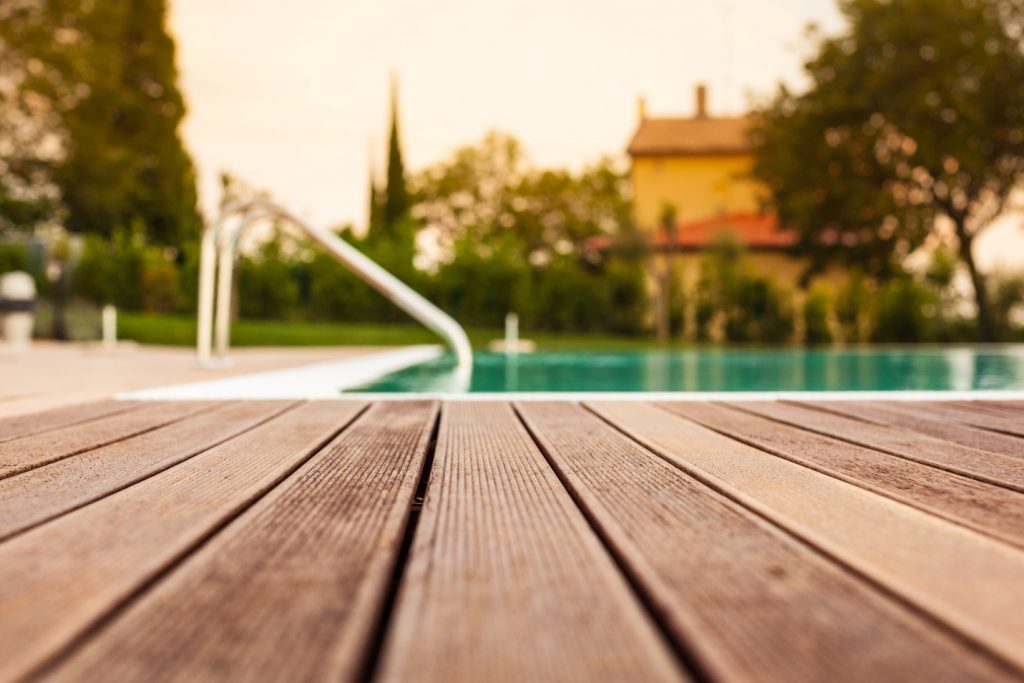 While the materials you use are ultimately determined by the type of deck you'll build, you still have plenty of options with each type. For example, an above-ground pool deck is almost always built from a wood (or synthetic) decking material, but this category ranges from natural wood to waterproof decking material.
By contrast, most patios and low-lying decks are built from stone, bricks, and other masonry materials. However, many homeowners are switching to waterproof decking materials for low decks due to their ease of installation and maintenance.
Weather Considerations
Local weather patterns and seasonal changes are extremely important to consider when designing your deck. While Californians enjoy great weather year-round, those in colder areas should consider cold- and weather-proof decking materials and designs. This consideration often rules out natural wood, which can shift and warp with changes in temperature and humidity.
In any case, however, rain-proofing and waterproof deck coatings are essential for protecting your investment from long-term damage.
Maintenance
Finally, the design of your deck should minimize maintenance over time—something which is mostly dependent on your choice of materials and surface treatments. Regardless of where you live, your pool deck will see a lot of water and moisture, whether it's from the pool water or the weather.
To minimize your deck's maintenance over time, use pool deck coatings and waterproof decking materials.
Using a Professional Service
Whether you're using natural wood or a waterproof deck material, a waterproof deck coating can help improve the longevity and durability of your new pool deck. For more information on our deck coating services, call our team at 424-339-0953.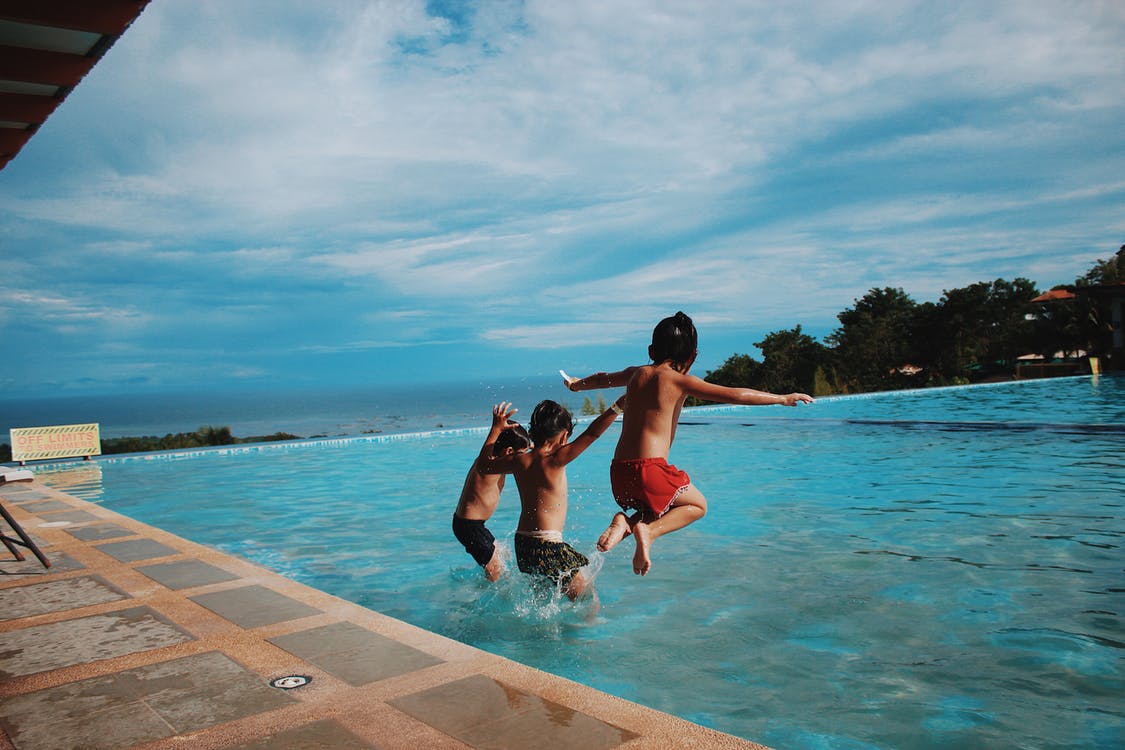 Your swimming pool is a great place to have fun and cool off—at least until someone slips or drowns, that is. According to the Consumer Product Safety Commission, over 300 American children under the age of five drown in swimming pools every year, with most victims usually only having been missing for less than five minutes.
Follow these tips to make sure that your pool remains a fun, safe place for everyone.
Have a pool barrier.
Pool barriers are, perhaps, the best investment for preventing pool-related deaths and injuries. Since most drownings occur when nobody else is around, being able to keep people out of the pool while there isn't supervision can help ensure that nobody (especially children) goes into the pool area without supervision.
Install a pool alarm.
Even with a pool barrier, children and animals can still find a way into the pool area and, potentially, fall in unnoticed. In this case, it's always good to have a backup—and a pool alarm is one great option. Pool alarms go off the moment someone enters the pool or pool area, which can help save precious minutes in the case of drowning.
Use a net or cover to close off your pool.
Nets and covers can also help keep people out of the pool and catch them if they fall in. Some covers can also help keep out animals, debris, and insects from entering the pool, which can help save on maintenance in the long run.
Unlike pool barriers and pool alarms, nets and covers completely prevent water access. This solution is often ideal for homes with pools integrated into landscaping, patios, and backyards.
Securely store pool-cleaning chemicals.
Even though they keep your pool clean, cleaning chemicals pose severe health hazards when they're consumed or come into direct contact with the skin. While most adults know better, children and animals usually don't.
Store and secure cleaning chemicals the same way you would any other toxic substance; keep chemicals in a locked container or room, preferably on a high shelf or surface out of reach from children.
Keep first-aid/rescue equipment nearby.
Unfortunately, pool injuries are bound to happen at some point. Be prepared by keeping a complete first-aid kit in the immediate pool area, which can help save precious time in the event of a major emergency.
For extra safety, consider enrolling in first aid and/or CPR training, and make sure both you and your family know how to properly apply bandages and other forms of first aid. It could save someone's life!
Inspect your pool's drain cover.
Improperly installed or poorly designed drain covers can cause undue suction and, in some cases, trap people underwater. While most modern drain covers are probably safe, make sure that your pool's drain cover is rounded and free of cracks or missing screws.
Maintain your pool deck.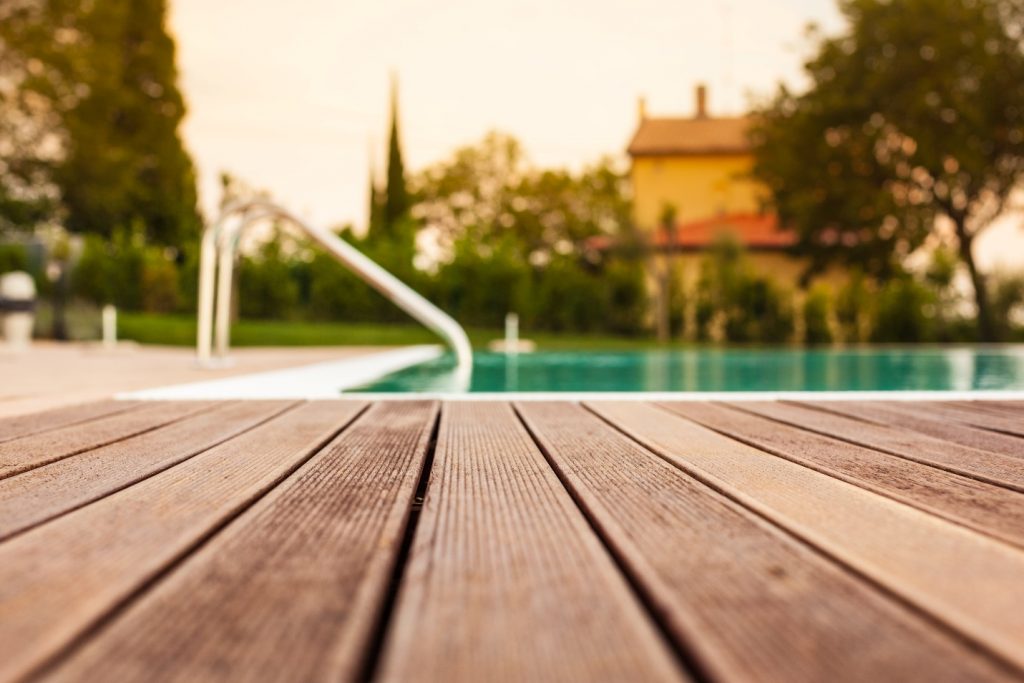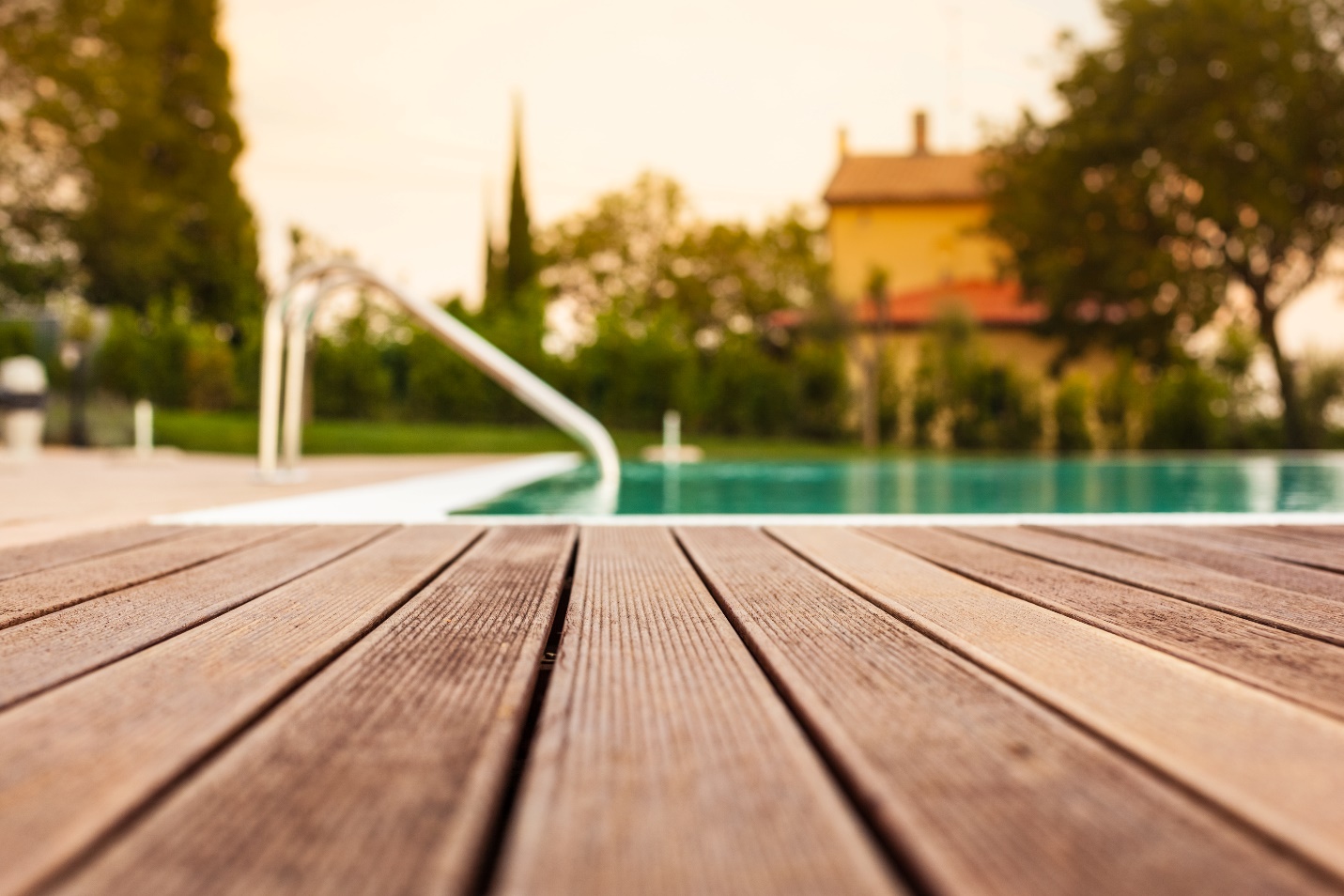 Maintaining your pool deck is essential for avoiding trips and falls. Apart from cleaning and basic maintenance, consider investing in pool deck waterproofing, waterproof deck coatings, and a pool deck drain to help keep walking surfaces dry and slip-proof. If you're installing a new pool deck or replacing an old one, you may also want to consider a durable, waterproof concrete pool deck.
Waterproof Your Deck to Keep It Safe
In all cases, waterproofing is essential for pool deck safety. For more information on our pool deck waterproofing and pool deck resurfacing services, call our Los Angeles team at 424-339-0953.
With people spending more time at home, now is a great time to prepare your pool for the spring and summer. In some places, warmer summer-like weather is already here. Take this opportunity to consider pool deck waterproofing and other maintenance. Getting your pool ready will give you and your kids something to enjoy outdoors from the safety and comfort of your home.
Step 1: Clean the Water
It can be tempting to drain the water and start over, but you don't have to. Draining the water is not only time-consuming but will make a huge impact on your water bill when you refill it later. Instead, get the right chemicals to clean the water to remove algae and other impurities.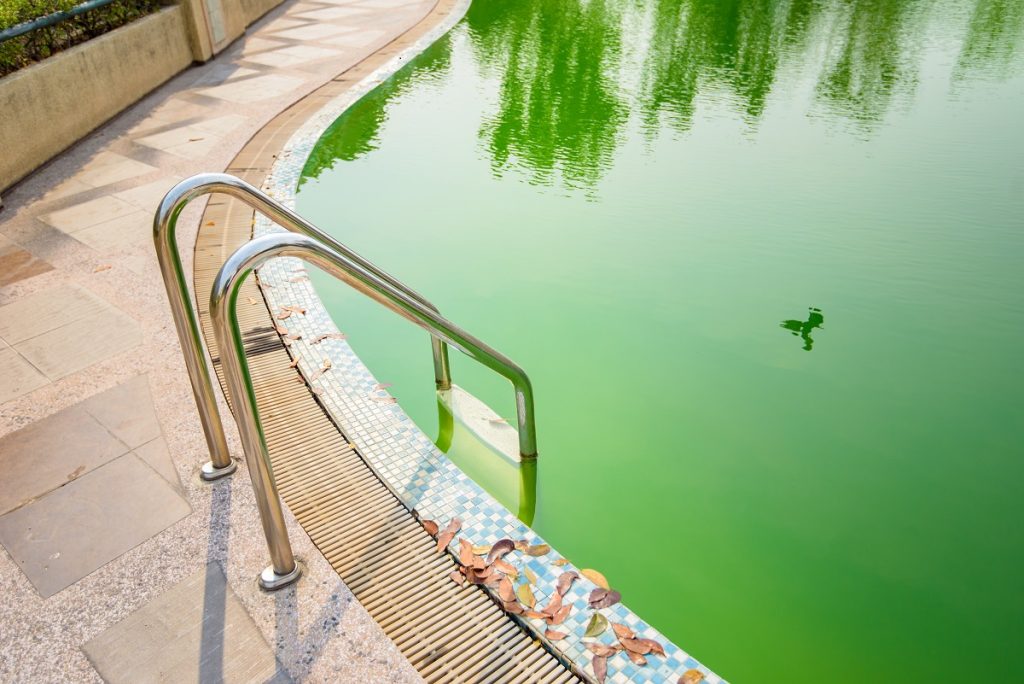 Step 2: Clean the Pool
After the water is clear, you may notice algae and other things stuck to the sides and bottom. Use a scrub brush to remove stuck-on algae and other debris. For leaves and other floating debris, use a pool skimmer net. If you have a pool vacuum, you can also use that to help clean the pool.
Step 3: Change the Filters
If your pool water is dirty, make sure to change the filters several times as the pool cycles. You also want to check the filters and change them after cleaning the pool. Once the water is clear and the pool is clean, install a new set of filters.
Step 4:  Inspect and Clean the Filtration System
Check for water leaks and make sure leaves and other debris are not covering the pool filtration system. Have a pool maintenance professional lubricate the moving parts and components on the pool pump and filtration system.
Step 5: Clean the Pool Deck
You want to make sure your pool deck is clean before using your pool. Otherwise, if there is dirt, debris, or leaves, these things will just get tracked into the pool. Depending on the type of pool deck you have, you may be able to power-wash it down. If not, you can use a garden hose and scrub brush to wash it down.
Step 6: Perform Pool Deck Maintenance
Pool deck maintenance involves checking to ensure there are no cracks, chips, or other potential safety hazards. If the pool deck is looking a little worse for the wear, you can get pool deck waterproofing, which is resurfacing and restoring the appearance of pool deck surfaces.
Step 7: Top Off the Water
If you need to add water to the pool, do so after completing all the other pool preparation steps. Make sure to fill the pool up to the necessary level but don't overfill it.
Step 8: Test and Balance the Chemicals
You need to test the water and check chemical levels to ensure they are correct. If not, add the required amount and retest until the water is balanced. Allow your pool filtration system to run for at least 24 hours after adding chemicals before retesting.
Step 9: Invest in a New Pool Cover
Using a pool cover not only slows the evaporation of water but also helps keep out dirt, dust, leaves, and other debris.
Step 10: Enjoy Your Pool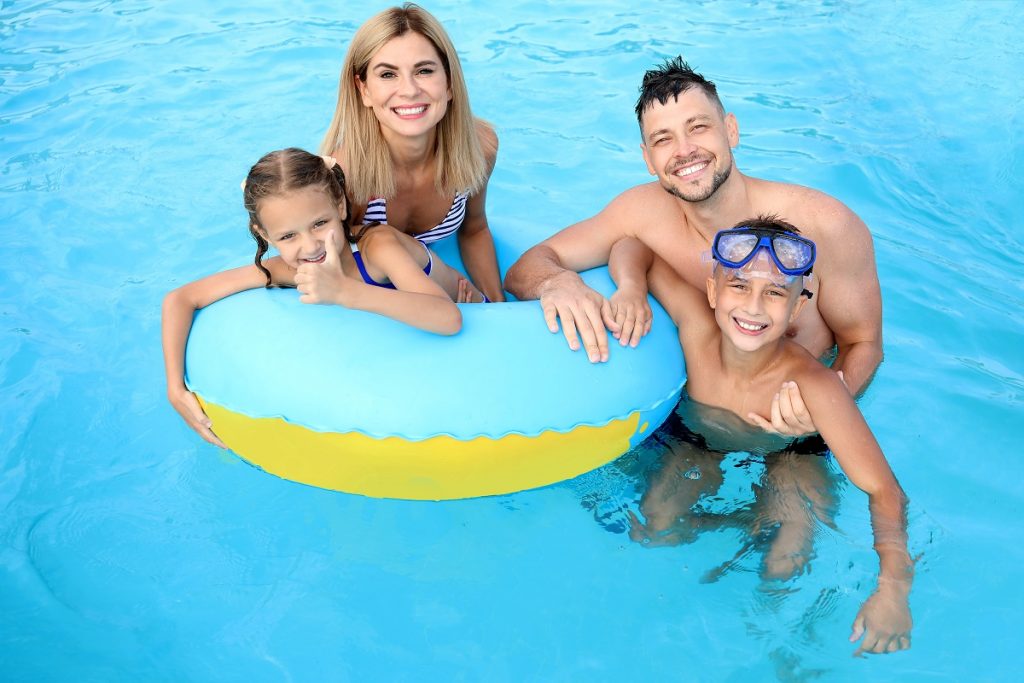 Now that your pool is ready to use, you can start enjoying it for afternoon swims, relaxing on the water while reading your favorite book, and playtime with the kids.
For professional pool deck maintenance, pool deck waterproofing, resurfacing, repairs, and restoration in the Greater Los Angeles Area, please feel free to contact Capital Deck & Stair for waterproofing at (424) 339-0953 today!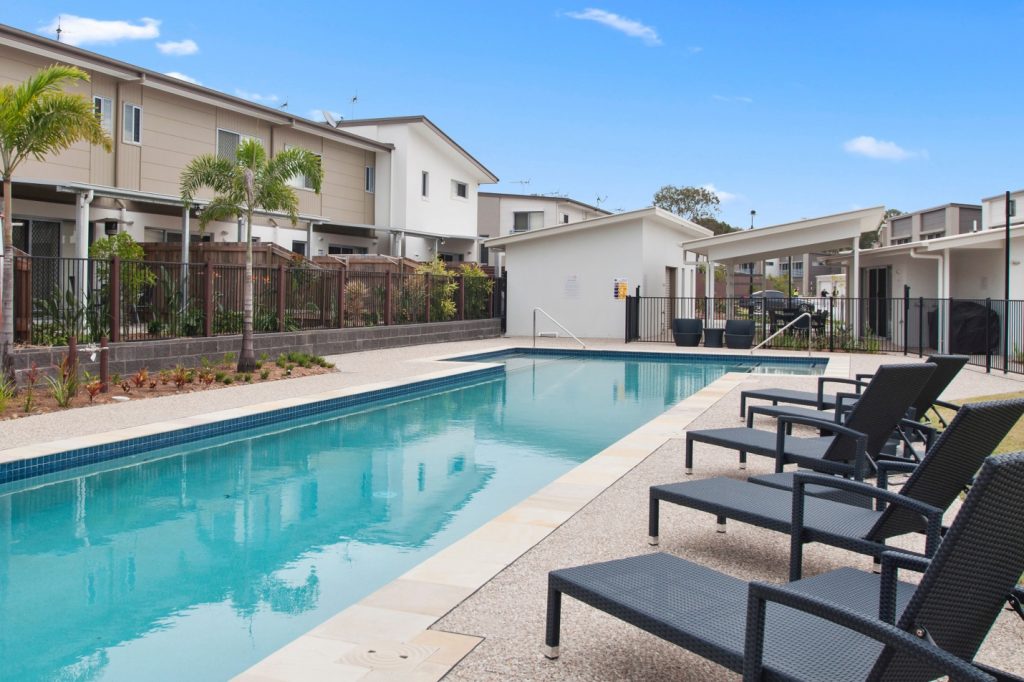 Over time, the deck around your pool really takes a beating. With regular exposure to chlorinated pool water, direct sunlight, and inevitable spills, the surface can become cracked, chipped, stained, and worn in ways that could pose risks of harm. Here are a few red flags that will tell you when you need to have your deck resurfaced and sealed.
Discoloration and Staining
Even though hard surfaces like concrete are easy to clean, they're not impervious to staining and discoloration over time. Concrete is still a porous material, which means that repeated, long-term exposure to food spills, rust, and other pigmented substances can cause lasting stains. Water spots can also create discoloration on your pool deck if there is significant leakage occurring beneath the concrete.
The ease of correcting discoloration depends on the severity but, in most cases, the stains can be easily erased with a professional pool deck resurfacing. Once they're gone, proper sealing can help protect the renewed surface from future stains.
Cracks and Dents
Shifting soil and impacts from heavy objects can cause large cracks and dents in your deck. These not only create tripping and injury hazards, they also serve as weak points from which more damage can spread.
If your pool deck is suffering from surface cracks, resurfacing can restore it by filling the cracks in the top layers of concrete. With any type of cracking, make sure you determine and address the underlying cause of the damage as well. If you don't, you may be facing the same problems sooner than later.
Breakdown of the Deck Surface
Sometimes the damage isn't quite as obvious as major cracks and dents. Seemingly small things like paint chipping and flaking of brittle surface concrete can be telltale signs that your sealing and waterproofing have begun to degrade. Have it resurfaced and re-sealed before it gets worse and becomes deep damage throughout the deck.
Damage to (and Leakage of) the Pool Itself
If your pool's interior is breaking down or has begun to leak and drop in water level, there's a good chance your deck is starting to go as well. In the case of pool leakage, especially, the red flag thrown by the pool is a sign that you need to head off deck damage as soon as possible.
Once you've addressed the underlying problems, have the deck fully resurfaced. Getting both issues taken care of at once is also a great way to make sure your deck and pool are equally well kept.
Get Professional Deck Resurfacing, Waterproofing, and Protective Coating from Capital Deck and Stair
At Capital Deck and Stair, we strive to be one of the best deck waterproofing companies in Los Angeles, CA. If you own a home in Southern California and are in need of pool deck waterproofing, or resurfacing, our experienced contractors and competitive service prices can give you the beautiful deck you want at a price you can afford.
Call us at (424) 339-0953 to learn more about how we can help you restore and protect your concrete pool deck today!
So the time has come to sell your property and you're making all sorts of improvements to make it look better and hopefully fetch a higher price from potential buyers. However, far too many home or commercial property owners ignore something that plays a huge role in their property's appeal and value: their deck!
Whether you have a pool deck, outdoor patio deck, or balcony, ignoring your deck can make it a real eyesore, and something that will send many buyers running at the mere sight of it. An unattended deck not only brings down the overall aesthetic appeal of your property, but will quickly bring up questions of how durable the deck is, whether or not it has water damage, and whether or not you've even bothered to take care of it.
Here are four valuable and helpful tips that can help you make your deck look good and more appealing to buyers, and may even help you fetch a better price for your property!
Pressure Washer
What's one thing you can do that will significantly improve the look of your deck and make it more appealing to buyers? Simple: wash it! Get the pressure washer out and give it a thorough blasting to remove dust dirt, and even some stains that have sat on your deck for months or even years. You'll be surprised at just how good your deck can look again after a good cleaning. If you don't own a pressure washer, you can rent one from your local home improvement warehouse. You can use your garden hose with a spray nozzle attached, but this isn't usually as effective at removing the tougher spots.
Fresh Paint
If your deck seems to be fading and losing some of its vibrant, eye-catching appeal, a new coat of paint may be the solution you've been looking for. Fresh paint can do wonders for rejuvenating an old deck, so long as the structure is still in good condition. And the best part: paint is pretty inexpensive, making this one of the most cost-effective ways of restoring your deck and making appealing to buyers again.
Re-Seal
Buyers will be able to tell when your deck isn't water-tight or has sustained some pretty serious damage as a result of water over the years. Not only does this look bad, but more often than not it'll send them running away quickly. Re-sealing your deck with a high-quality waterproofing solution can stop the damage from forming and protect your deck for at least the next few years, giving your buyers peace of mind of knowing they'll have considerable time before having to worry about the first major service.
Replace Cracked Boards or Pavers
Finally, nobody likes seeing huge cracks in a deck. Land-shifting, sun damage, and plenty of other things can cause the surface of your deck to develop unsightly cracks and gashes that quickly diminish much of the appeal your deck might have otherwise. Fixing these cracks by replacing the boards, pavers, or other materials that have them can get rid of this worry! However, for concrete, stone, or other types of decks, this may not be the most ideal option. Instead you may wish to consider sealing the crack itself, which a Los Angeles deck waterproofing company can help you with.
Let Capital Deck & Stair Waterproofing help you prep your deck to sell with your property. Contact us by dialing (310) 912-7737 to request an estimate.
Southern California is the land of swimming pools, and that means pool decks are just as common. Whether you have a pool of your own or you're considering making this addition to your property and want to know more about the responsibility it entails, there are some things you need to know about pool decks and the care they require. Pool decks may not be as much work as the pools they surround, but ignoring their condition could have severely detrimental consequences for your pool and your property as well as the deck itself.
To help you better understand pool decks, here are the answers to some of the most commonly-asked questions about them.
Do I Have to Seal My Pool Deck?
The benefits of doing this truly cannot be understated. Sealing your deck will not only help it last longer and stand up to more wear and tear, but it will also help you repel stains and even keep colors brighter and longer-lasting without constant care and maintenance. This goes for all materials, including concrete, brick, stone, wood, and much more.
What Materials Last the Longest?
An important characteristic of a good pool deck is durability, even under heavy use and major stress from the environment, such as blistering summer heat. Concrete or other solid materials tend to be the best-suited for Southern California, but they can be more expensive than a cheaper material like wood or composite. Bear in mind that the investment now may pay off later when you don't have to spend as much time and money maintaining a concrete, stone, or other solid-material deck than you would with another type.
What's the Best Way to Clean My Deck?
Over time, stains happen. Whether it's furniture left in one spot for months (or even years) at a time, leaves or dirt accumulating, or an oily substance being spilled, cleaning your deck can be a hassle. Pressure washing is a good way to really get at these tough stains, but be careful about this when you have a softer deck material. Algae or mildew can also accumulate in shady and often-damp areas—take care of this with a bleaching agent, or even baking soda if you'd prefer a more natural remedy.
Should I Use Pavers?
Pavers are a budget-friendly way of being able to get a harder, more durable deck surface without paying the cost they usually entail. Pavers are pieces of clay (like brick) or stone that are cut into uniform sizes and can be laid down in a pattern that composes your patio. While these can give you a good look, they're prone to water intrusion and all sorts of issues beneath. While they're generally easy to maintain, they can develop problems like mold or ants beneath them so carefully consider the maintenance needs before choosing them.
How Can I Keep My Deck Beautiful?
There are a few things you can do that prevent your deck from becoming worn and dirty. First, keep metal furniture like chairs and tables off your pool deck, or insulate the bottoms with rubber or plastic feet to prevent staining. Second, regularly clean your deck with a hose or pressure washer and a leaf blower to keep stains, dirt, and dust away. Finally, consider covering the frequently-traveled areas of your deck, such as near doorways or pool stairs with rubber mats to prevent wear and tear. Each of these steps can help keep stains at bay, minimize your maintenance responsibilities, and keep your deck looking beautiful for many years to come.
Do you need your pool deck stained or sealed? Trust the Los Angeles deck waterproofing experts from Capital Deck & Stair Waterproofing! Call us at (310) 912-7737 to receive a free quote .
The best pool decks are durable, waterproof, rugged, and have anti-slip properties that allow those walking on them to have traction even when the deck itself is wet. Over time, this exposure to water will eventually wear away at a deck's surface, causing it to crack and become unstable. This means it's extremely important both for your deck and for your pool to make sure that your deck is regularly re-sealed so it can retain its waterproof qualities.
But how often should you re-seal your deck? The answer isn't always straightforward as it depends on a number of different factors. Here are some of those factors and what they mean for the frequency with which you should resurface it.
Deck Material
Pool decks are constructed from lots of different materials. While the majority are a form of textured concrete, some people opt for a more natural look using sandstone slates, and some even use clay tiles or marble as their deck surface. While a good waterproofing job should last at least a couple of years for each of these materials, concrete and other hard materials tend to have better water resistance inherently compared to softer materials like sandstone.
Deck Use Level
Is your pool a gem of your backyard that only sees use a few times per year? If so, then you probably aren't going to need to resurface and reseal it for quite a bit longer than a pool that's used regularly and heavily every single day. A public pool at a local park is going to need a lot more care far more often than the same pool deck at a private residence.
Environment
Where your pool deck is and what level of exposure to the elements it receives also influences how long a waterproof seal will last. Ultraviolet exposure and lots of heat will all eventually cause a waterproof seal to wear out and become less effective. Therefore, a pool deck that receives long hours of sun exposure every single day will need sealed far more often than one that's covered by shade or sits indoors all the time.
Does your pool deck need resurfaced? Speak with the Los Angeles deck waterproofing experts from Capital Deck & Stair Waterproofing today! Call us at (310) 912-7737 to request an estimate or schedule your service.
With the New Year rapidly approaching, you may be busy making your New Year resolutions and preparing to make transformations in your life. While your mind is on renewing old things and bringing them up to date, it's important not to forget your home, and especially your deck.
In sunny California, the warm weather will be here sooner than you think, and it'll be time for summer barbeques, splashing in the swimming pool, and spending long evenings on your deck. Why don't you get a head start and schedule waterproofing services with our Los Angeles deck waterproofing professionals?
Waterproofing can help you refresh the look of a tired and worn out deck. It can also help you preserve your deck for many more years of enjoyment. Our waterproofing solutions are low-maintenance, which means less work and more fun for you. In addition to improving the look and safety of your home, a fresh coat of customized waterproofing can dramatically increase the value of your home or rental property.
We offer warrantied waterproofing service for:
Your home's safety, beauty, and upkeep are important to us. We offer a variety of resurfacing and waterproofing surfaces to help you maintain many surfaces around your property. All our waterproofing projects use superior materials to ensure that your deck is not only waterproof, but fire retardant and flexible to preserve your deck.
We offer custom blended colors at no additional cost, so your new waterproofing coat will blend seamlessly with your existing home and yard décor. We also work around your schedule, and we offer weekend and after-hours services to meet your needs. With multiple crews in the Los Angeles and Orange County areas, we can offer quick, reliable service.
Get the advantage of more than 30 years of deck waterproofing experience for your home. Schedule a free estimate today , and one of our qualified waterproofing professionals will come to your home for an inspection.
Contact our team at Capital Deck & Stair Waterproofing by calling (310) 912-7737 .
Your deck is an extension of your home and living space, and like your home, it requires regular cleaning and upkeep to remain safe and comfortable. Composite and natural wood decks may have different requirements, but there are some basics for all decks. Here are some do's and don'ts of deck care to keep in mind.
Deck Do's
Do give your deck a thorough annual cleaning. Your deck needs annual exfoliation to allow protective sealers to seep deeper into the wood of your deck. Choose a dry, moderately warm day to apply a material-appropriate deck-cleaning solution with a sprayer or roller. This will kill mold and bacteria that can speed the decay of your deck. A scrub brush can help the cleaner get into hard to reach spots and crevices to ensure that your whole deck is cleaned.
Do cover surrounding plants before cleaning your deck. Cleaners and other chemicals can be hard on plants, so it is important to loosely cover them with plastic sheeting or tarps to prevent them from being sprayed. Avoid covering them too tightly, which might restrict air movement.
Do sand your deck before applying sealer. After washing your deck, allow 48 hours for it to fully dry. Your next step will be to lightly sand your deck to remove splinters or damage due to pressure washing. A power sander may be too harsh, but 80-grit sandpaper should be enough. After your deck has been sanded, apply a sealer to prevent the wood from cracking, cupping, or warping. Tinted sealers and stains can wear down over time with traffic, but clear sealant will last longer.
Do clean your deck regularly. In addition to your annual cleaning, you should keep your deck swept free of puddled water, leaves, branches, dirt, and other debris. In snowy areas, a plastic shovel can remove snow without damaging your deck.
Do watch for damage. If your deck becomes damaged, it can become a significant safety hazard and lead to further damage. Inspect your deck regularly for soft or splintered spots, loose nails, boards, or railings, and split or rotten planks. Promptly repair damaged areas when discovered.
Deck Don'ts
Don't rely on a power-washer. While this can be an effective and quick way to clean our deck, it can also cause damage. If you do use a pressure washer, keep the stream moving whenever the trigger is moving. A garden hose with a hard stream setting should provide enough pressure to clean your deck without damaging it.
Don't use chlorine bleach on your deck. This can damage the cellular structure of your wooden deck and strip it of color. It also can harm the plants growing around your deck. Oxygen bleach is a safer alternative, but it still isn't appropriate for redwood decks.
Don't use paint to seal your deck. New paint can look polished and clean, but it will distress very rapidly. If your deck was painted and you are looking to use a different sealant, you will need to sand off all the paint before you can refinish your deck. Synthetic sealants can prevent mold and mildew while protecting from sun damage and water damage.
Don't assume pressure-treated wood decks are maintenance-free decks. While pressure-treated wood can resist rot and insect damage, it still required sealant and cleaning. Be sure to use products intended for pressure-treated wood when protecting your deck from sun and water damage.
Don't use natural material rugs on your deck. It is important to prevent your deck furniture from scratching the surface of your deck, but natural fiber rugs such as jute and bamboo can absorb moisture and encourage mildew. Look for rugs made from recycled plastics for an eco- and deck-friendly solution.
Keep Your Deck In Shape with Los Angeles Deck Waterproofing Services –
(310) 912-7737
With more than 30 years of experience, Capital Deck & Stair Waterproofing can help you preserve the beauty and safety of your deck with a wide variety of waterproofing solutions. Let us help you refresh your deck, balcony, or outdoor stairs with our warrantied waterproofing services. Our Los Angeles deck waterproofing crews are available when you are, with weekend and after-hours scheduling available.
Request a quote today, and learn more about getting the most from your deck. Contact us by calling (310) 912-7737 .