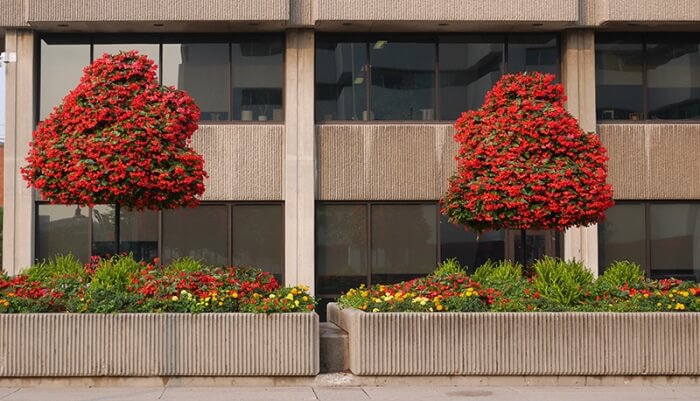 Planter boxes are a wonderful way to add additional plants, flowers, and trees to your home or business. Just like any other outdoor surface, they need additional waterproofing to extend their life and avoid expensive water damage.
When it comes to waterproofing a planter box, however, there are more considerations than many might realize. Read on to learn more about the benefits of planter box waterproofing and how you can waterproof the right way.
Why Waterproof Your Planter Box?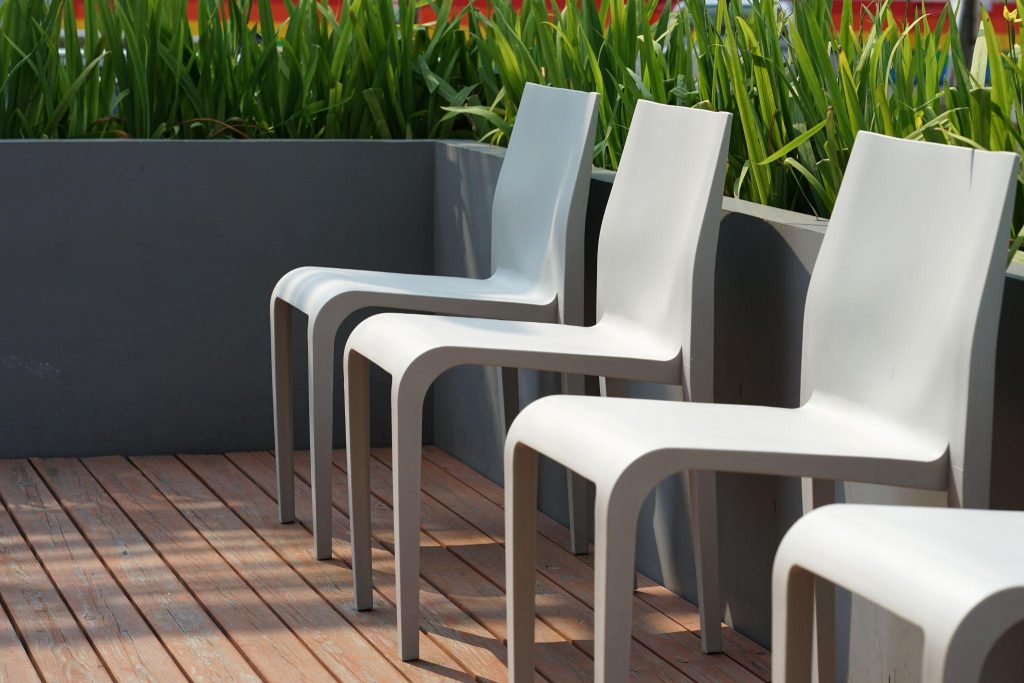 In most cases, planter boxes receive the greatest amount of water exposure of any outdoor structure. Since planter boxes must withstand both rain and regular watering, waterproofing is extra essential to protect your planter boxes from water damage.
While protection from water damage is the primary benefit of planter box waterproofing, there are a few additional benefits that may help improve the health of your plants and even reduce your water bill.
Prevent Water Damage
Whether your planter box is made from wood, concrete, or any other material, waterproofing is crucial for avoiding water damage. Planter boxes require more waterproofing than almost any other outdoor structure, since they must also withstand regular plant watering in addition to rain and other harsh weather conditions.
Preventing water damage in a planter box can also help prevent water damage to surrounding structures. With proper drainage and waterproofing, water won't have a chance to infiltrate nooks and crannies that could eventually spread rot, rust, and mildew.
Save Water
Applying a waterproof coating to the inside surface of your planter boxes can help save water in the long run. While saving water might sound counterintuitive when it comes to waterproofing, planter boxes without waterproof coatings are prone to absorbing or leaking water while leaving plants dehydrated.
With a waterproof coating, your planter box will retain smaller amounts of water for longer without damaging its materials or structure. As a result, you'll be able to maintain your plants with much less water—something that's especially important in drier climates.
Healthier Plants
The water-saving benefits of planter box waterproofing also extend to the plants themselves. Where a planter box without waterproofing will leak or absorb water without providing enough for the plants, waterproof boxes save water and help promote healthy, hydrated plants.
As we'll see later, most waterproof planter boxes still have drainage installed, allowing property owners and gardeners to strike the balance between proper hydration and sufficient drainage for even the most finicky plants.
Extend Planter Life
From avoiding water damage to maintaining healthier plants, waterproofing ultimately extends the life of the planter box itself. With both inside and outside surfaces thoroughly protected from rot, rust, mold, and mildew, waterproofing can significantly extend the life of planter boxes of any material.
Steps to Waterproofing a Planter Box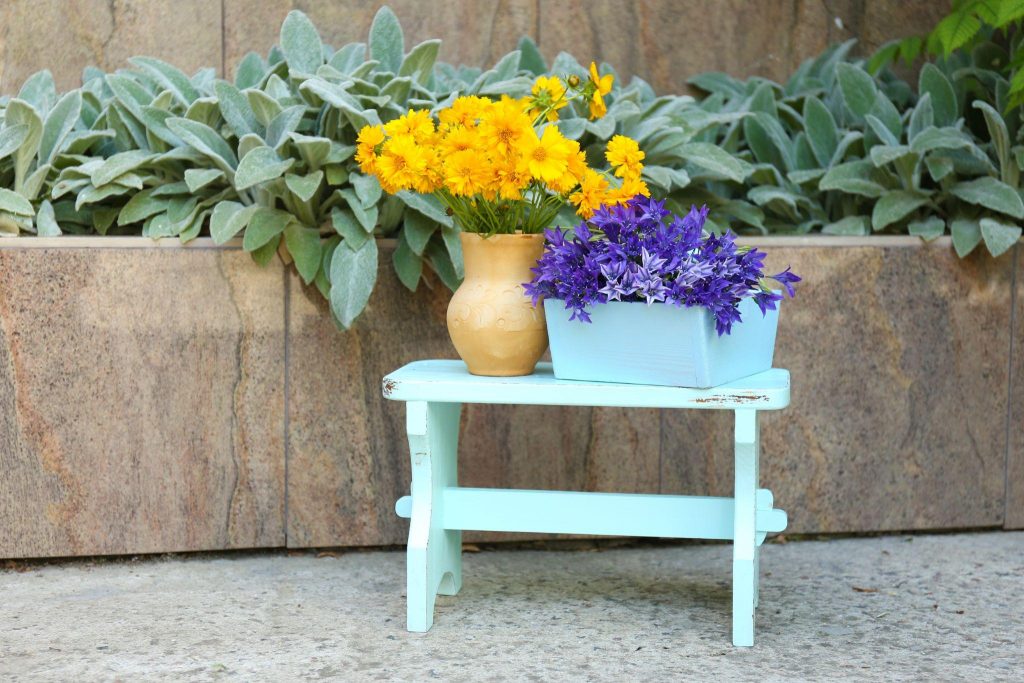 While planter box waterproofing follows a similar procedure to waterproofing decks, patios, and other outdoor surfaces, it often requires additional preparation to allow for proper soil drainage.
Before waterproofing can even begin, however, your planter box will need a little prep work!
Clean the Planter Box
No matter what you're waterproofing, a clean surface is essential to ensure that waterproof coatings and meshes can adhere properly. Depending on the material and condition of the planter box, you may need to perform extensive surface preparation before waterproofing.
Of course, preparing a new planter box is easiest. With a surface free from dirt and deterioration, new planter boxes only require a quick sweep or soak to remove excess particles or debris. By contrast, older boxes require complete soil removal and an extensive cleaning of both interior and exterior surfaces.
For concrete and metal boxes, cleaning may require through pressure washing and other laborious surface preparations. Thankfully, most waterproofing professionals will do this step for you.
Install Drainage Points
Planter boxes need adequate drainage to prevent over-watering and water entrapment. If your planter box doesn't already have a drainage system, then you'll need to install one before applying a waterproof coating.
Drainage points also require extra preparation for waterproofing. Since drainage adds holes and corners to otherwise flat surfaces, they'll likely need the same waterproof mesh strips as corners before a waterproof coating can be applied. Once this work is finished, however, waterproofing can proceed normally.
Apply Waterproof Coating
With a clean surface and plenty of drainage points, waterproofing can finally begin! As mentioned previously, drainage points and corners often require extra strips of waterproof mesh before waterproofing can begin. These mesh strips help ensure that hard-to-reach areas, such as tight corners and crevices, will remain waterproof if coatings don't fully penetrate.
Just like a deck or other outdoor surface, waterproofing is usually applied as one or more liquid coats. Once the coats are dried and set, the waterproofing should last several years before reapplication is necessary. Planter box interiors may last even longer with proper drainage and the protection from sun, wind, and rain provided by the soil.
Superior Waterproofing from Capital Deck & Stair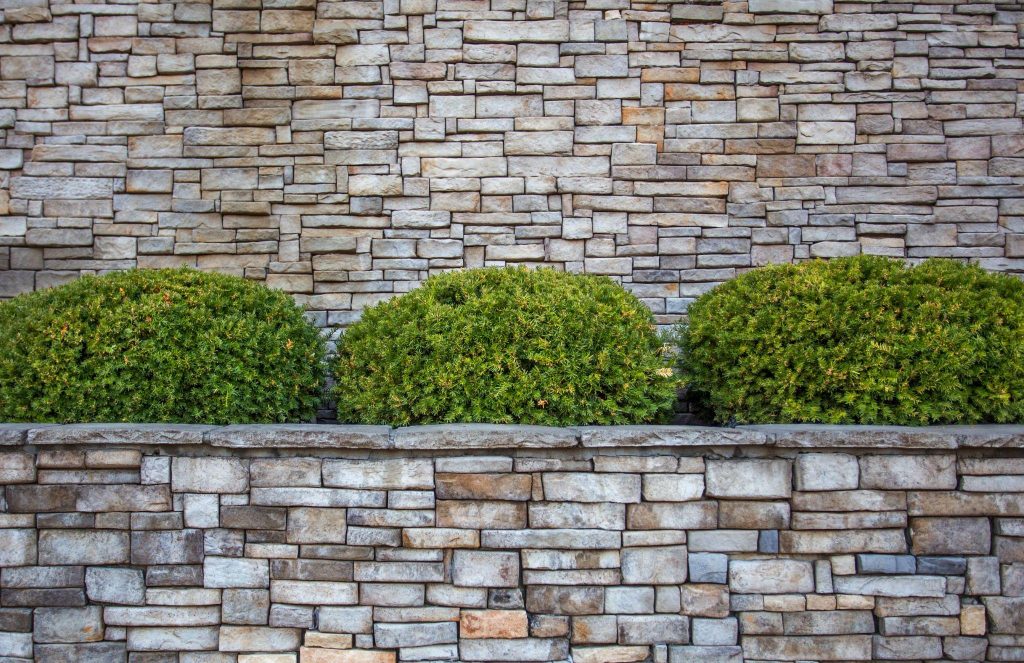 Planter box waterproofing is truly one of the most effective ways to maintain your outdoor structures and extend the life of both your plants and planter boxes. However, like any waterproofing job, extensive prep work and specialized materials make it difficult to DIY.
With waterproofing services from Capital Deck & Stair, you can enjoy peace of mind knowing that your planter boxes, decks, and other outdoor surfaces are able to withstand any rain and water that comes their way. All of our waterproof coatings are backed by an extended warranty and money-back guarantee. Call us at (424) 339-0953 to learn more about our waterproofing services and receive a free quote!
Moisture is the enemy of every home and construction project. Waterproofing contractors will protect homes and commercial buildings against moisture damage. Otherwise, mold and mildew can develop, threatening both the integrity of your building and your health. Here's how to ensure you always choose the best contractor for any waterproofing project.
Check Them Out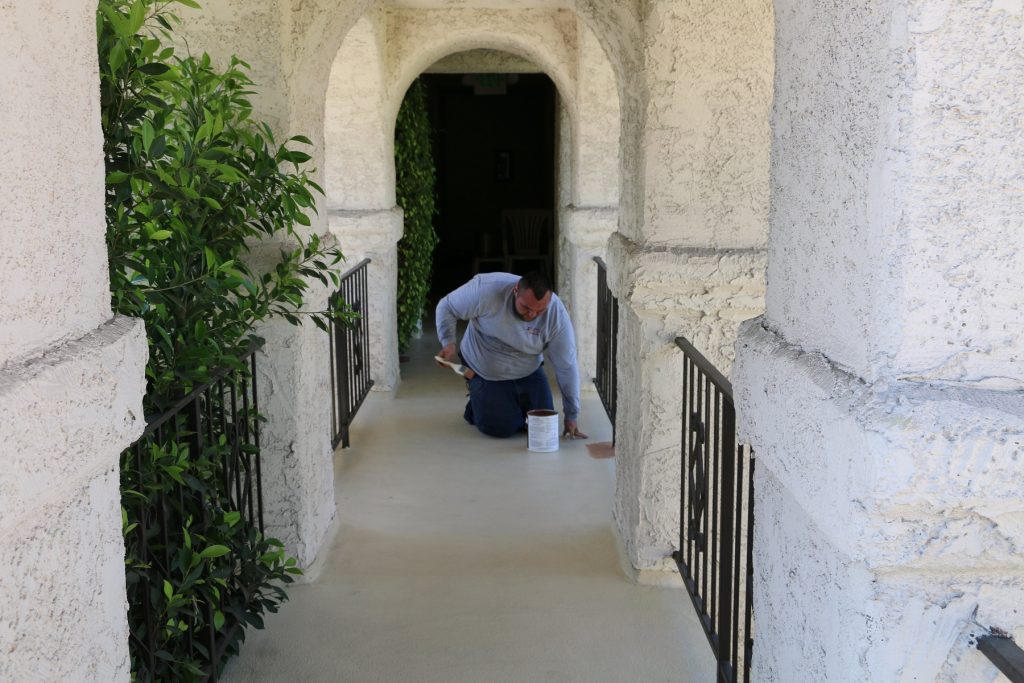 There are several waterproofing companies in Los Angeles, CA that are available to complete waterproofing services for your home or business. The first thing you can do to narrow down your list is to get as much information about them as possible.
Check out how long they've been in business and how many years of experience they have. Both of these factors, along with their credentials, will give you insight into the level of quality they'll provide. Social media pages can reveal what customers think about their services and how well the company communicates with them. Of course, you should also check that they possess the right types of insurance coverage, including indemnity and public liability.
Get More Than One Opinion
Now that you've got a handful of professional, courteous companies with the right credentials and level of experience, it will be important to get quotes from them all. In order to do this, they'll need to visit your property so they can get an understanding of what needs to be done.
Thorough Inspection and Explanation
A thorough inspection of the site will be necessary so that all areas needing waterproofing can be addressed. After inspection, the best waterproofing contractors will explain to you, with as much detail as possible, what kinds of water issues are occurring and why. It is only with an inspection and explanation that you can be aware of the scope of your waterproofing project.
Cost and Schedule
Once your chosen companies have inspected your property, it'll be time for them to present you with a quote, warranty, and a timeline in writing. At this stage, you'll also want to ask them for references, which they should be more than happy to supply. Once you've received this information, it'll be time to choose your contractor.
Consider Each Interaction and Report Carefully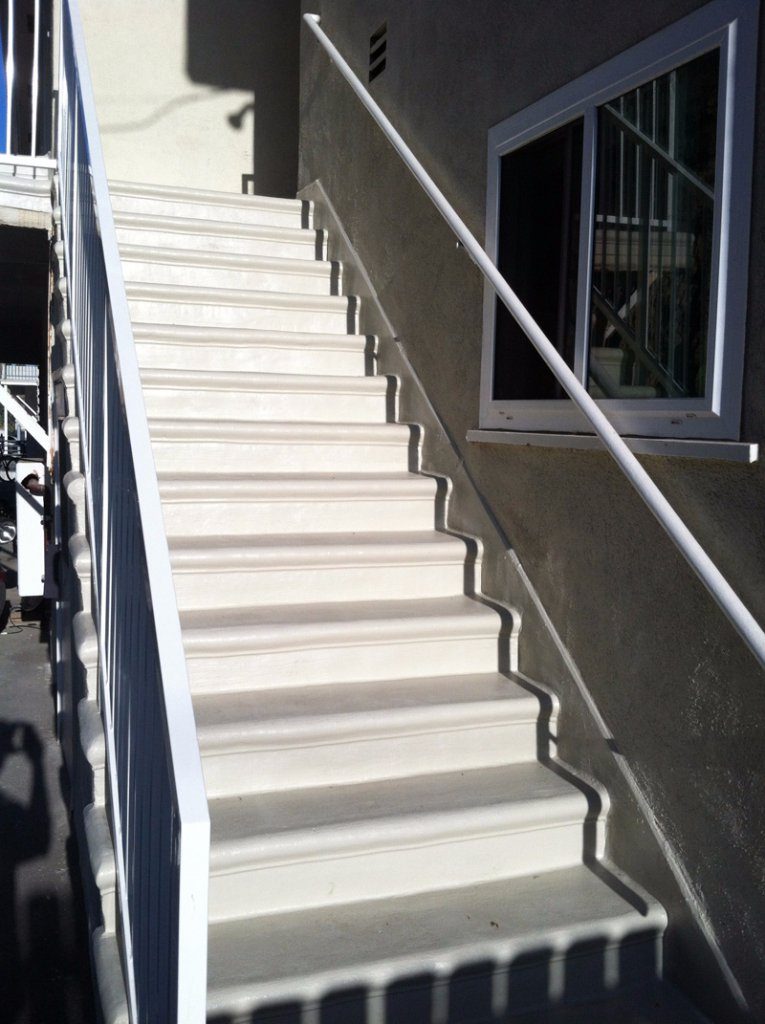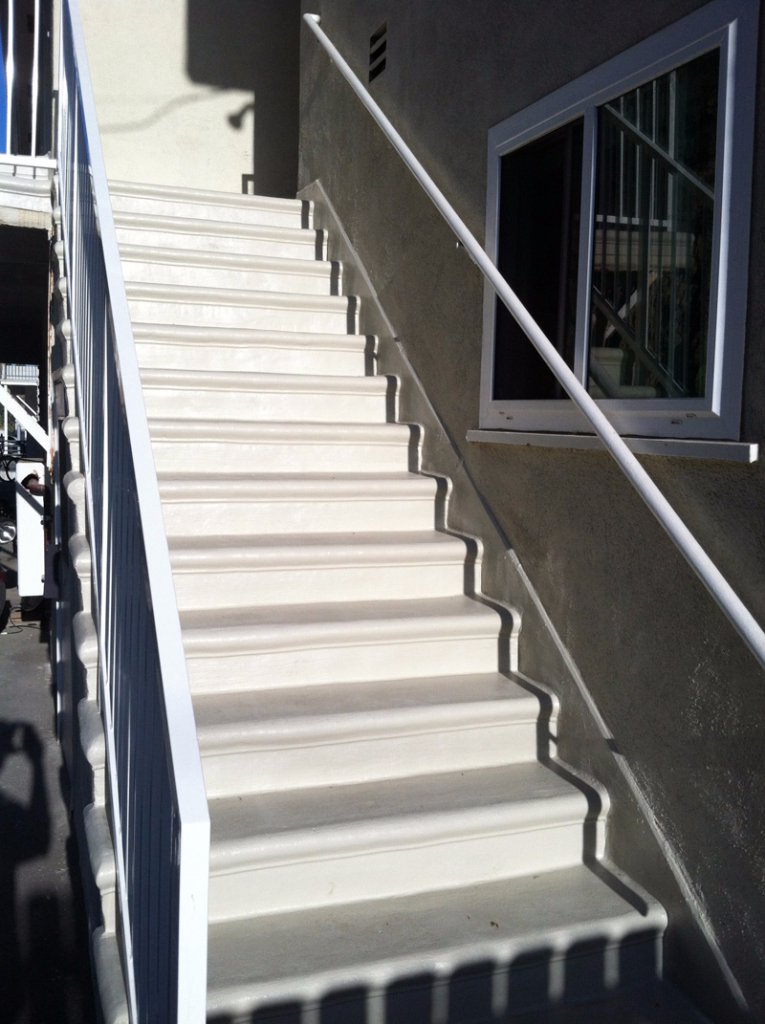 Next, you'll want to think about your interaction with each contractor. Were they able to provide you with sufficient details and references and were they professional and courteous? Were they mindful of respecting your property when they inspected it?
You'll also want to consider the details contained in their estimate. Are all project costs listed on their estimate, and is their timeline realistic for your needs? Can they complete the job without major disruption? Do they offer a guarantee for their work and materials? One company will likely stand out more than the rest after you've asked these questions.
Waterproofing Systems You Can Rely On
When contacting waterproofing contractors in Los Angeles, consider Capital Deck & Stair. Our highly trained experts will provide you with all of the information you need to make an informed decision. Call today and learn more about our guarantee and 8-year warranty: (424) 339-0953.
If you regularly welcome people to properties that you own, whether as a landlord or a business owner who operates a retail space, you might be worried about slip and fall liability. After all, if someone is injured in a fall on your property and it is determined that you have been negligent in some way, the financial ramifications could be significant. Fortunately, there are several options for reducing your exposure, here, including using building waterproofing surfaces. Let's take a closer look at this important topic.
Start with Stairs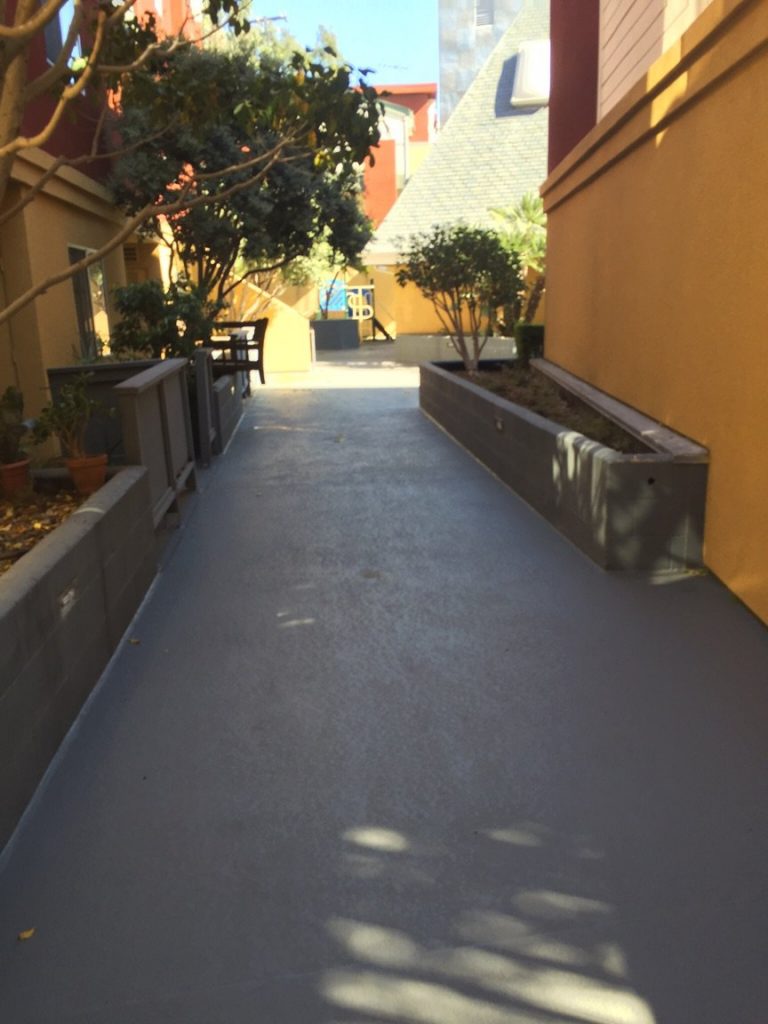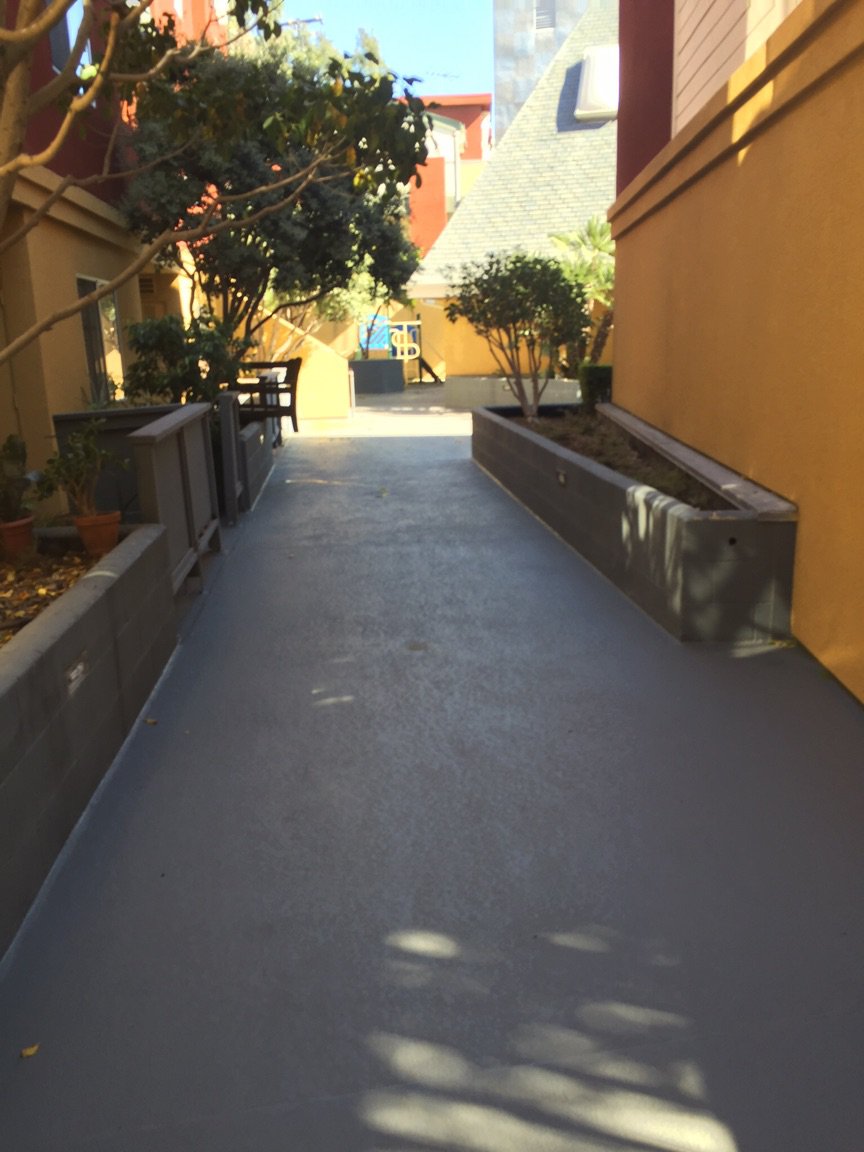 As you take an overview of your property to determine where you can make safety improvements, stairs are a good place to start. There are a few points you can check regarding your stairs, including the presence of a solid, secure handrail. Having a handrail available is important for safe use of the stairs, but it will only be helpful if it is secured firmly in place.
Also, check to make sure the rise between each stair is even. When walking up or down the stairs, people naturally expect each step to be the same as the last. If there are awkward changes in how much the stairs rise between each tread, those spots could become a problem.
Avoid Slippery Spots
Something as simple as a slippery floor can create the environment for a slip and fall accident to occur. Consistently cleaning up your spaces is an important part of avoiding slippery spots, but you can also have some areas treated by commercial waterproofing contractors to create better traction. Good waterproofing companies in Los Angeles, CA will be able to create walking surfaces that make it easier for users to maintain their footing.
Present a Tidy Space
You don't want to force your customers or visitors to navigate around messy areas that may cause them to stumble and be injured. For instance, in a retail store, leaving loose boxes piled up in areas that are meant for use by customers would be setting the stage for an accident to occur. Be sure to keep up with organizational tasks during business hours to not only keep everyone safe but also offer a better experience for your customers.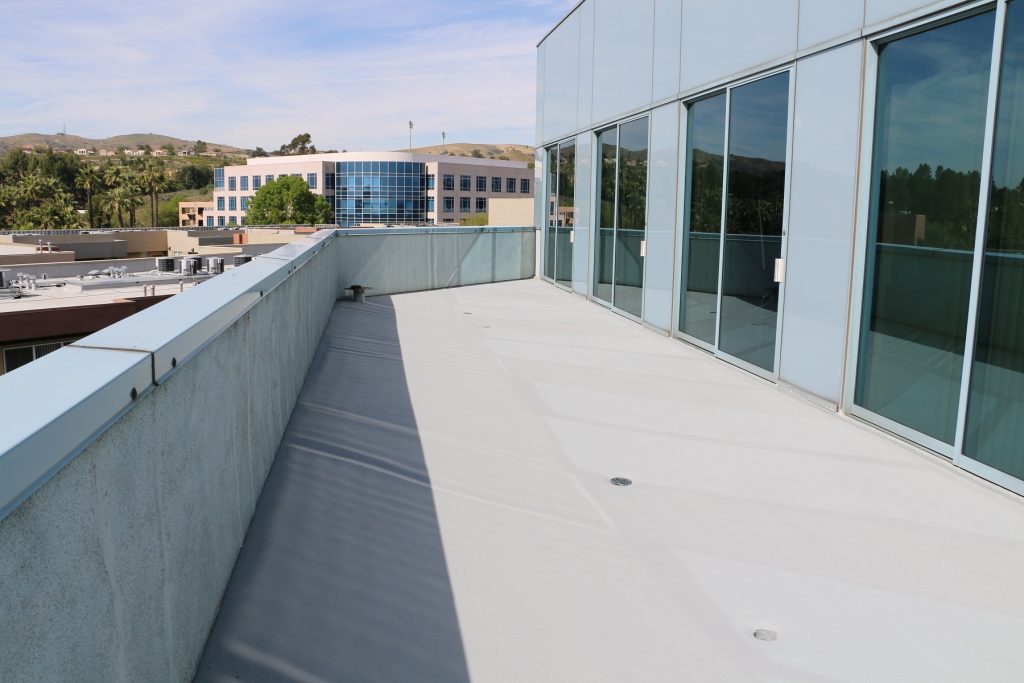 Getting Help
If you still aren't sure exactly what you should do around your property to limit your slip and fall risks, consider asking your insurance company for help. Some insurance companies will be happy to provide free resources to help you make improvements since they would prefer to avoid any claims coming down the line. This can be a great way to have a professional take a direct look at your property, so any concerns can be highlighted and remedied.
Capital Deck & Stair Can Help
For the waterproofing portion of this task, contact Capital Deck & Stair today. We are an experienced LA-area waterproofing company with all the experience and knowledge necessary to handle this job. Thank you for stopping by!
A balcony is a great addition to homes and businesses alike; the wealth of space they provide allows everyone to take in the scenery as they enjoy some downtime. Yet a surface without waterproof balcony flooring, the wrong railings, and unrepaired structural elements can place guests in danger. Let's take a closer look at how to keep your balcony attractive and safe for everyone to use.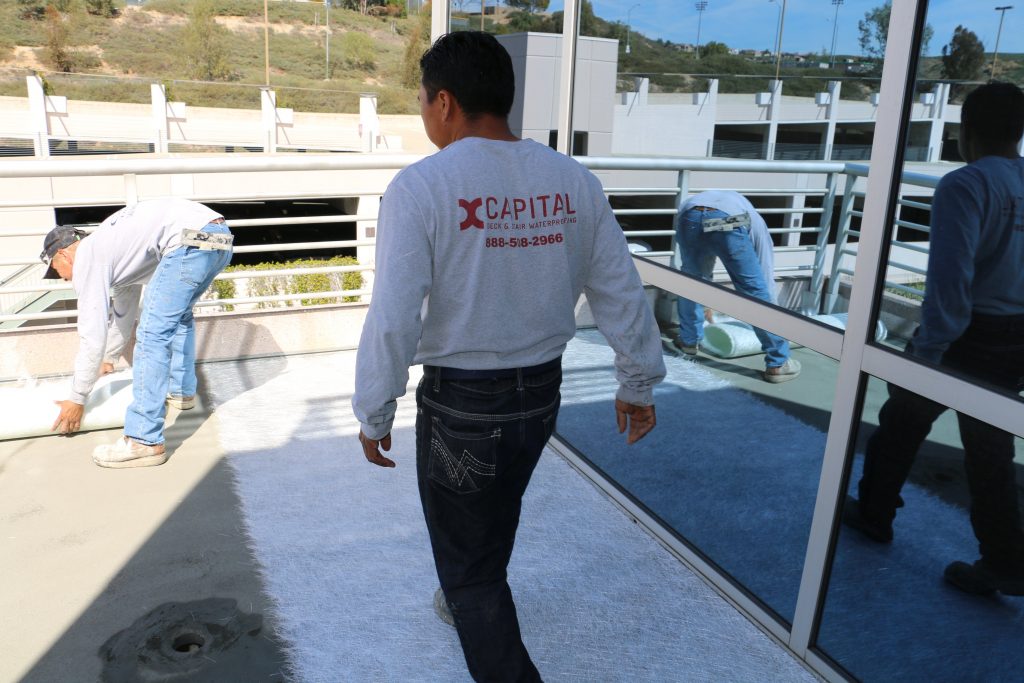 Ensure Railings Are the Right Height
How can you know that your balcony rail is the right height? The California Building Code. Home and business standards differ, but both require minimum railing heights and maximum spacing between posts and balusters, as well as between the balcony floor and bottom rail.
These heights and spacings are in place to prevent falling from the balcony, from going over the railing, or from crawling underneath.
Heed Occupancy Limits
The California Building Code also has requirements for weight, stating that a balcony must be able to withstand a specific amount of pressure at any given location to remain safe. The more people who are on a balcony together, the more weight and pressure that the balcony must withstand at one time.
While this may not be an issue for new and well-built balconies, one that has gone into disrepair poses a far greater risk of safety, which leads us to our next tip.
Monitor Your Balcony Frequently
By regularly monitoring your balcony, you can avoid safety issues. Make regular inspections of the balcony to look for the following signs that could become bigger problems:
Chipping
Cracking
Wearing
Splitting
Uneven surface
Leaks
There are also cosmetic signs of wear such as water stains, discoloration, and dirt that can make your balcony look older than it is. In terms of monitoring, you should also look at the debris that may be collecting on your balcony; not only does clutter look unattractive, but it can cause tripping and falling and also make your balcony more difficult to enjoy.
Make It Safer for All Weather
Weather can definitely affect your balcony's surface, making it slippery and harder to walk on. This can easily cause occupants to fall and become injured. A great way to prevent falls and slips is to coat your balcony with a non-slip surface. Guests and employees will feel much safer when they know they can walk on the surface confidently, and it will completely restore your balcony's look.
Waterproofing Systems That Work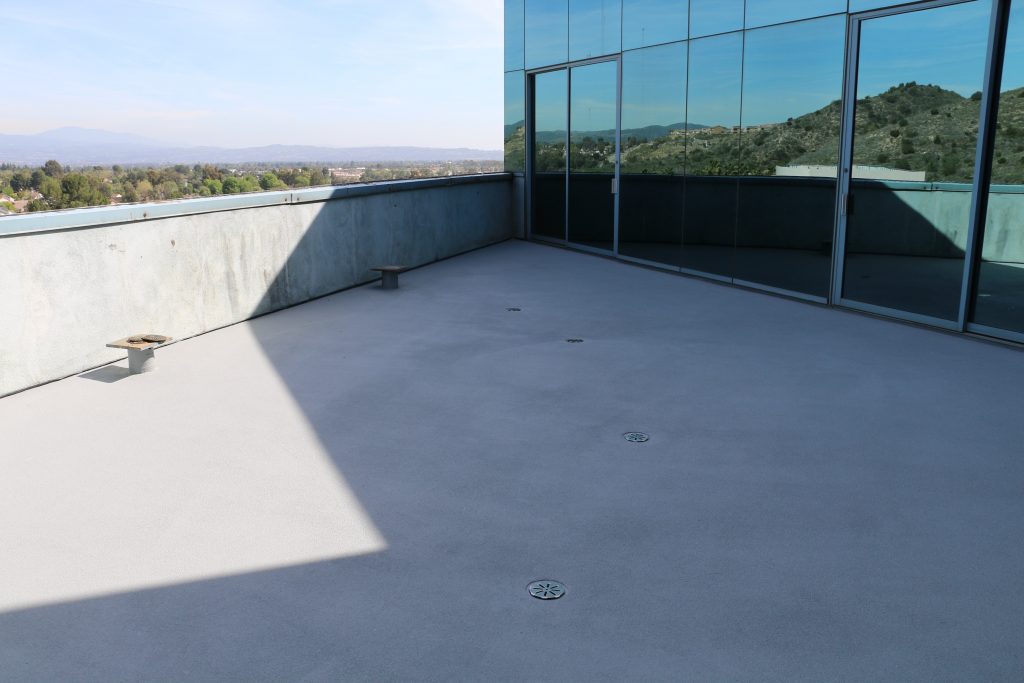 If your balcony needs attention due to cracks, erosion, water penetration, or age, there is a solution that will increase its durability, beauty, life, and value: waterproofing from Capital Deck & Stair, a balcony waterproofing contractor. With over 30 years of industry experience, our waterproofing systems are installed by trained experts.
We provide a warranty and an 8-year guarantee on every service we offer. Learn more about how easy it is to make your balcony safer and more beautiful with Capital Deck & Stair; get a free online estimate today.
If your balcony is your happy place, you want to spend as much quality time out there as possible, even when it's raining. Yet when the rain blows straight onto your balcony, everything gets soaked. Not only that, but rain can seep into your furniture and into the concrete, making repairs from a balcony waterproofing contractor necessary. This guide will reveal how to rainproof your balcony in a few simple ways.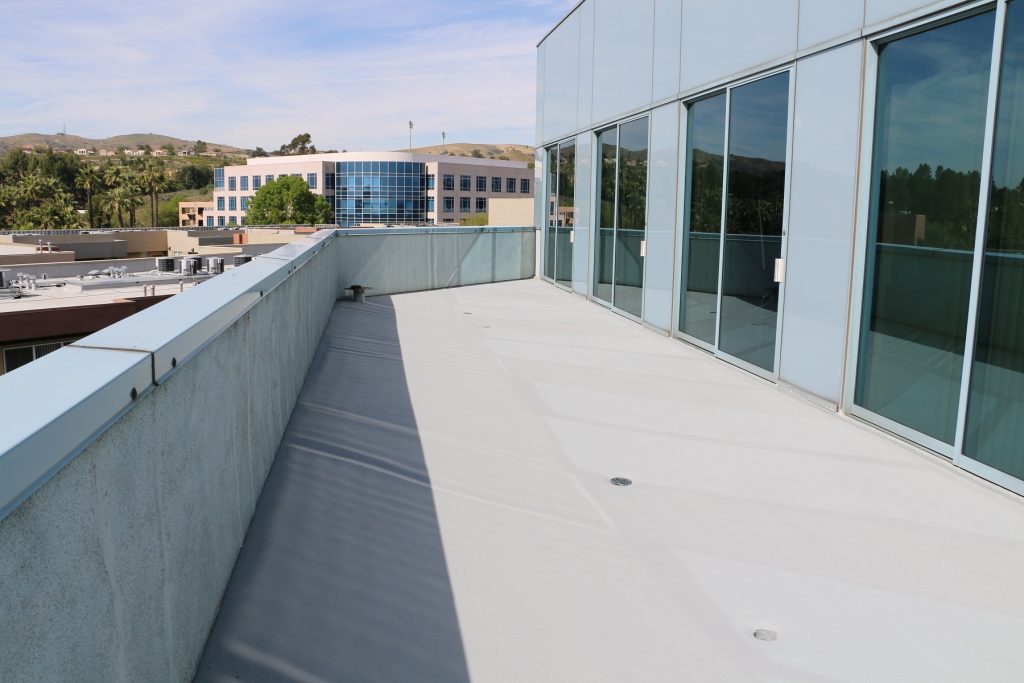 The Right Outdoor Furniture
The first thing to do is take a look at the furniture that's out on your balcony already. If it's rusty-looking, faded, or still soggy from the last rainstorm, it's time to replace it—but with what? Furniture that's made to stand up to all kinds of weather, and there's a lot of it out there. It all depends on your taste but, if you're going with wood or cushions, there are some cautions.
In order to last, wooden outdoor furniture needs to have been treated with waterproofing sealant. As far as cushions go, not all are created equally. If you don't want to have to bring your cushions in during a rainstorm or to cover your furniture, then simply ensure your cushions are made with quick-dry foam in addition to having a water-resistant cover.
Use Waterproof Decor
If you use your balcony as an outdoor living room, you likely love to decorate and light it up. Over time, your décor and lights will lose their luster to rust unless they're made for being outside. Of course, you should always choose balcony lights that are waterproof and made for outdoor use only. As for decorative items, resin, glass and stone are all ideal.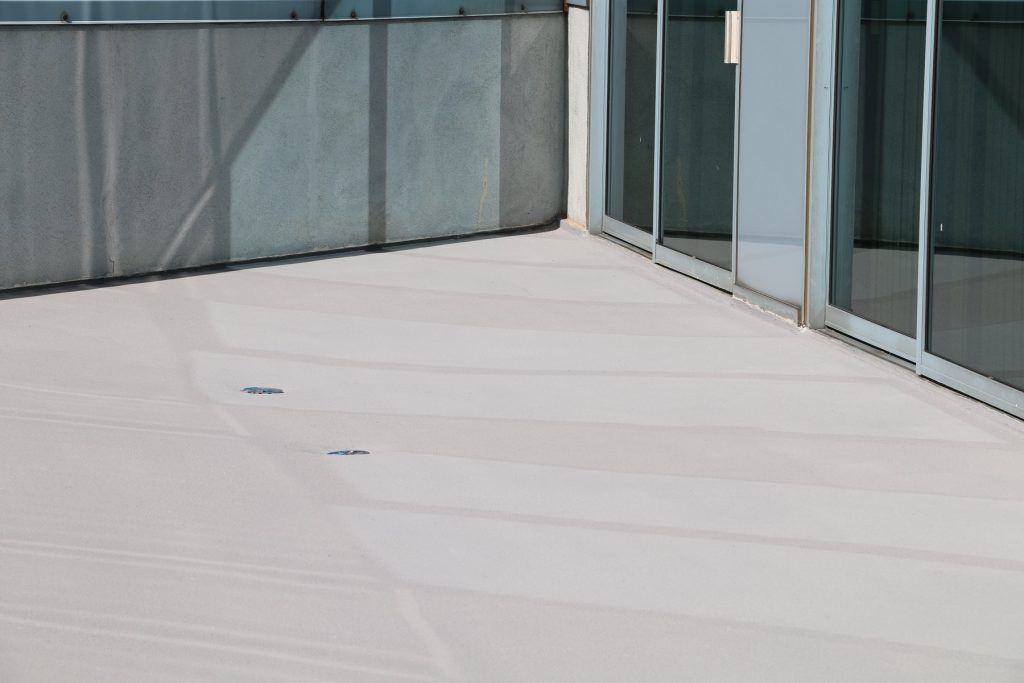 Proper Plant Drainage
The plants on your balcony will love the rain, but they can only consume so much before they become waterlogged. When this happens, your plants and your balcony can be at risk. Rain will drip through the bottom of plant pots straight onto—and into—the surface, requiring balcony deck repair.
The best thing to do is change your soil if it's made for gardens. Garden soil doesn't work well in plant pots because it's too dense and, as a result, is more likely to overflow. Denser soil will also make it more difficult for plants to root. Potting soil is looser, is easier for roots to move through, and will allow water to move more easily to the bottom.
You'll want to make sure there are enough holes in the bottom of pots as well, although this will still mean that water hits your balcony. However, when you choose to seal it, rainwater will bead up on your balcony instead of soaking into it.
Cost-Effective, Guaranteed Waterproofing
When you want to save your balcony or deck from the rain, quality matters. Capital Deck & Stair is a balcony waterproofing contractor offering durable, high-quality solutions that dramatically increase your home value without the high cost. Call today to get a free estimate: (424) 339-0953.
What Is the Best Season to Waterproof Your Deck?
If you're a regular reader of our blog you've probably recognized the importance of waterproofing your deck. Now you just have to decide when to call in the waterproofing contractors.
Budgetary issues aside, there are pros and cons in terms of when to have your deck waterproofed—in either the summer or the winter months.
Let's First Get Our Bearings Before We Discuss the Weather
Our company, Capital Deck & Stair, is a leading provider of deck waterproofing in Los Angeles and Orange County with over thirty years of experience. Our customers are all based in Los Angeles and Orange County, so the information provided here is relevant to homeowners in Southern California.
Whether to Do It in Summer or Winter Depends on the Weather
The most important factor in terms of having your deck waterproofed is having it done when there is a period of around three to four sunny and dry days. You will need one or two sunny days to ensure that your deck is completely dry before the work begins. Then you'll need another day for the actual waterproofing work to be done, then a further day for the waterproofing coating to dry completely.
Waterproofing Your Deck During the Summer Months
The benefit of having your deck waterproofed in the summer months is that our summers are typically dry. Ideally you would want the work to be done before you start making extensive use of your outdoor deck. Having your deck waterproofed at the very beginning of summer is a good time to do it if you plan on using your deck throughout the summer and you don't want to have any down time.
Waterproofing Your Deck During the Winter Months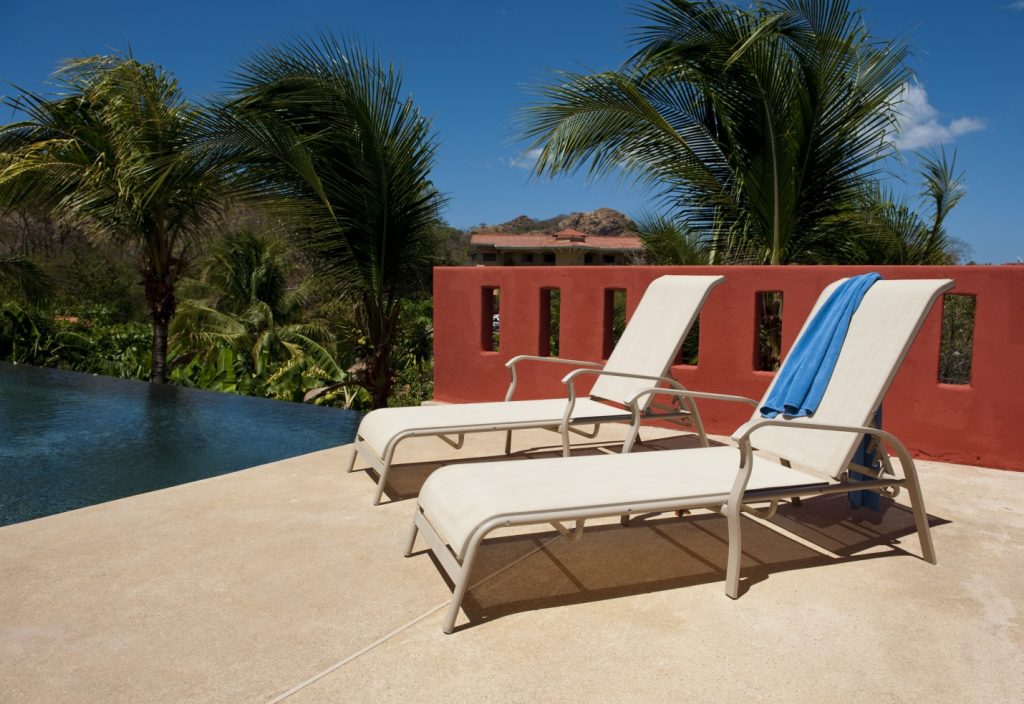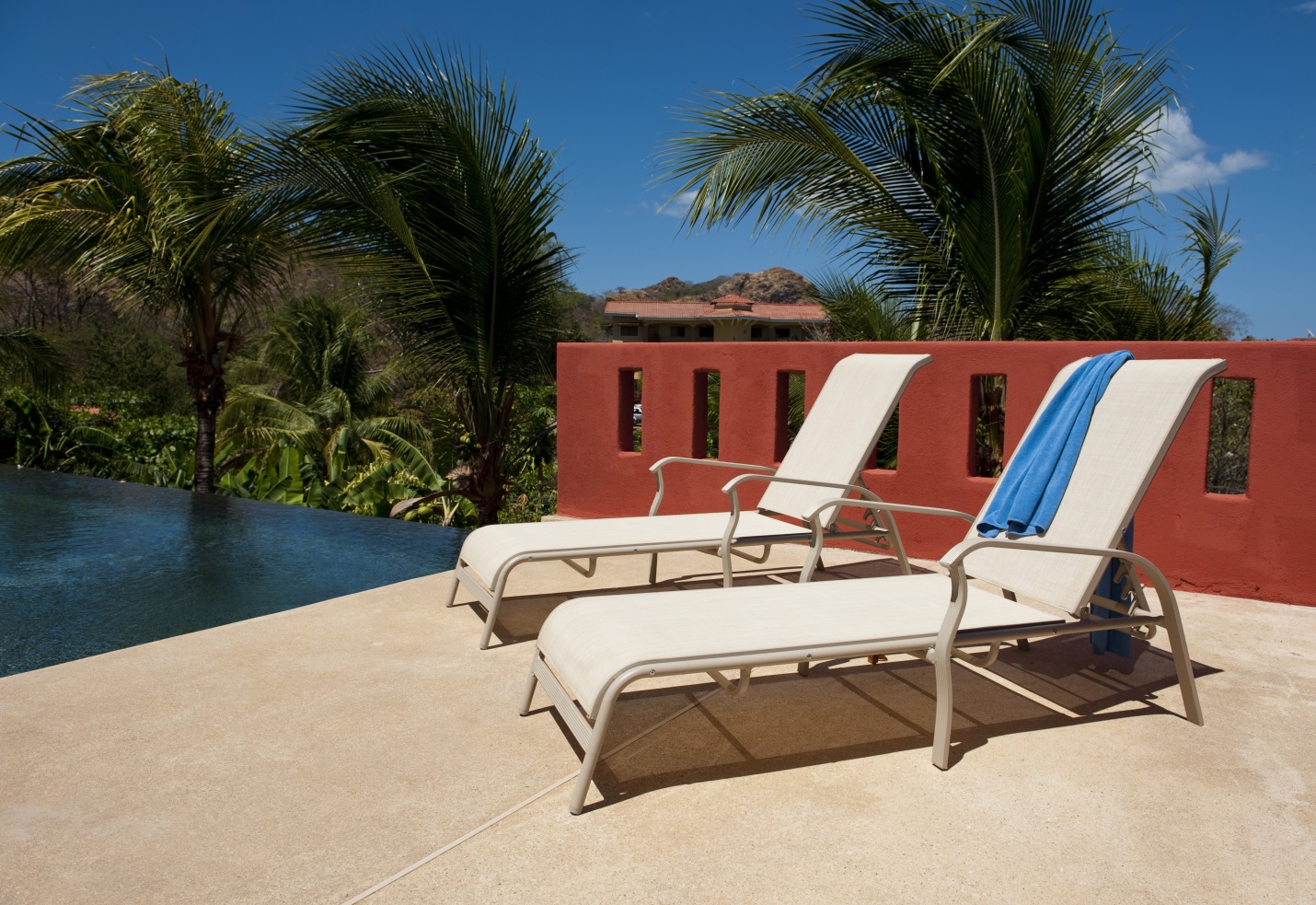 The benefit of waterproofing your deck during the winter months is that it isn't going to impact your deck usage as most people don't use their decks very much during the cold winter months. The drawback to this, however, is that it typically rains a lot during winter, so you'll need to make sure it's done during months with little rain.
"It Never Rains in Southern California"….Except During the Winter Months
According to the weather experts, February on average is the wettest month in Southern California. Rain usually starts around October or November with December seeing rainfall on a more frequent basis. Rain will typically continue falling until early April. Ideally you want to waterproof your deck before the rainy season starts so that your deck is protected from damage before there is a lot of rain.
A Gentle Reminder Why Waterproofing Is Important for Your Deck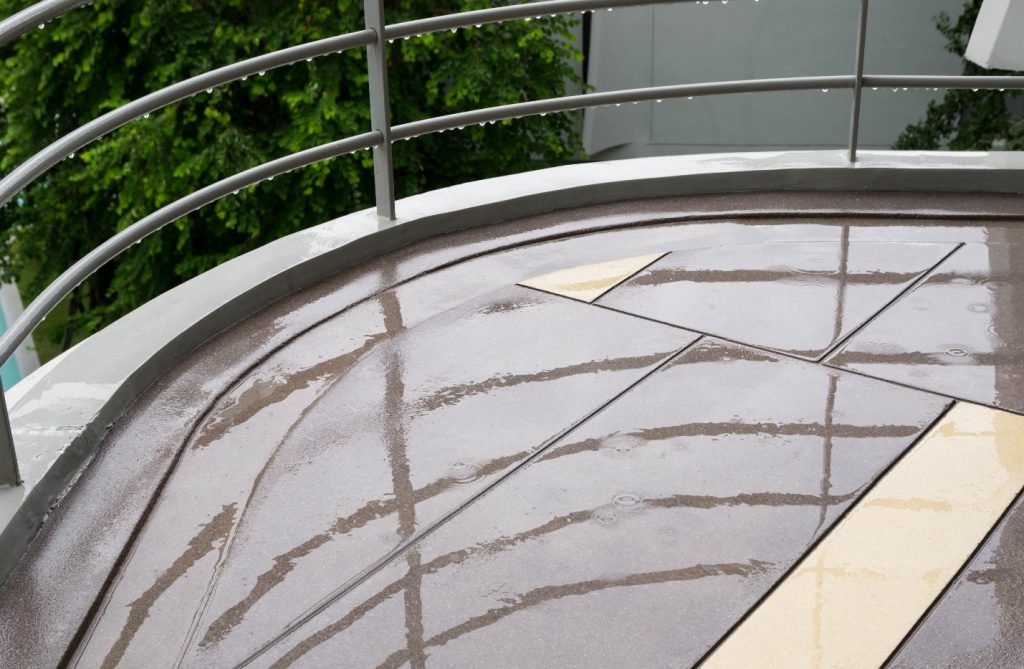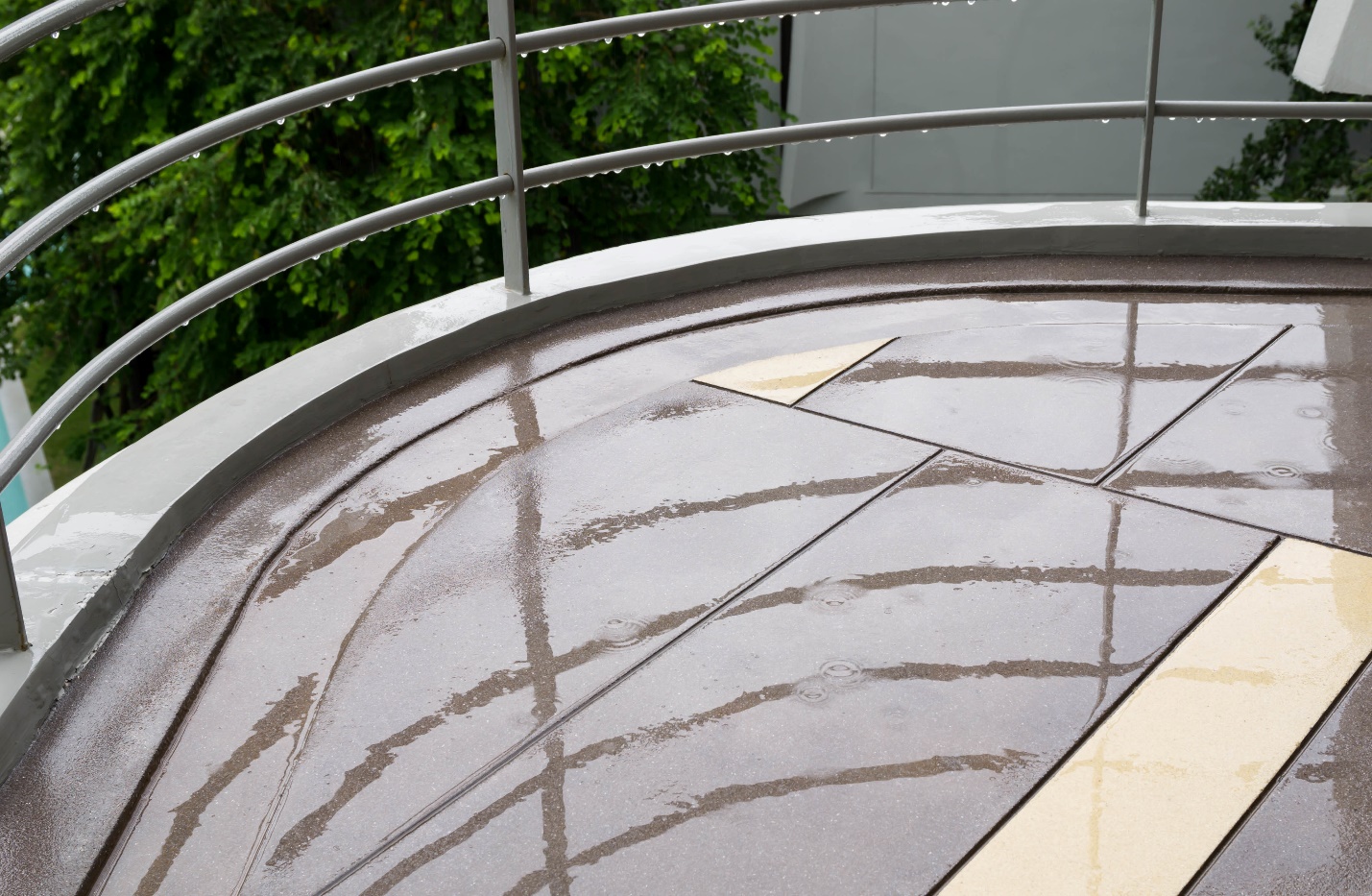 A waterproof deck coating will extend the life of your deck. It will also keep it looking brand new. Waterproofed decks are also easier to keep clean as the surface coating helps prevent dirt from sticking to the deck. Last, but not least, and most important if your concrete deck is on your roof, waterproofing your deck will prevent leaks from occurring and causing significant amounts of damage to the structure below.
Long-Lasting Waterproof Protection for Years to Come
Our waterproof deck coating is guaranteed to last up to 8 years. Protect your beautiful deck from damage and keep it looking brand new. Give us a call at 424-339-0953 before the rain starts, we'd love to give you a free estimate.
Save Money by Waterproofing Your Concrete Deck This Winter
Outdoor decks, like every part of your home, need regular maintenance. If you don't maintain your deck, chances are that you will have to replace it at some point due to weather damage.
Concrete and Stone Decks Are Not Indestructible
We're fortunate in Southern California to live in an idyllic climate, with lots of warm sunshine and not so much rain.
That's good for people, but for outdoor concrete decks that can't take a break from the hot sun, it means being exposed to a steady stream of baking hot sunshine for most of the year.
How the Sun Damages Concrete and Stone Decks
The sun's rays heat up the concrete causing it to expand, which results in fine cracks. When rain water gets into these cracks it causes major damage to the surface of the deck.
Water that is trapped in the cracks freezes during the cold winter nights. As water turns to ice it expands, and this ice expansion widens the cracks. Over time these fine cracks get wider and wider as more water gets trapped in the cracks.
These cracks also widen when the ground shifts as it often does during earthquakes in Southern California.
How to Prevent Water Damage to Your Outdoor Sundeck
The best way to prevent water damage is to apply a waterproof coating to the surface of your deck.
Our company, Capital Deck & Stair, specializes in waterproofing decks and we've been doing it for over 30 years. That's why we're one of the most trusted waterproofing contractors in Los Angeles and Orange County.
Don't Put Off Waterproofing Your Deck, It Can Result in You Replacing Your Deck
From our experience, homeowners who put off regular maintenance of their outdoor decks can end up paying ten times as much to replace a deck that is too damaged to repair.
Besides the obvious unsightly appearance of having a badly cracked deck, you also run the risk of someone falling on the uneven surface and then suing.
"What's involved in waterproofing my deck and how much is this all going to cost me?"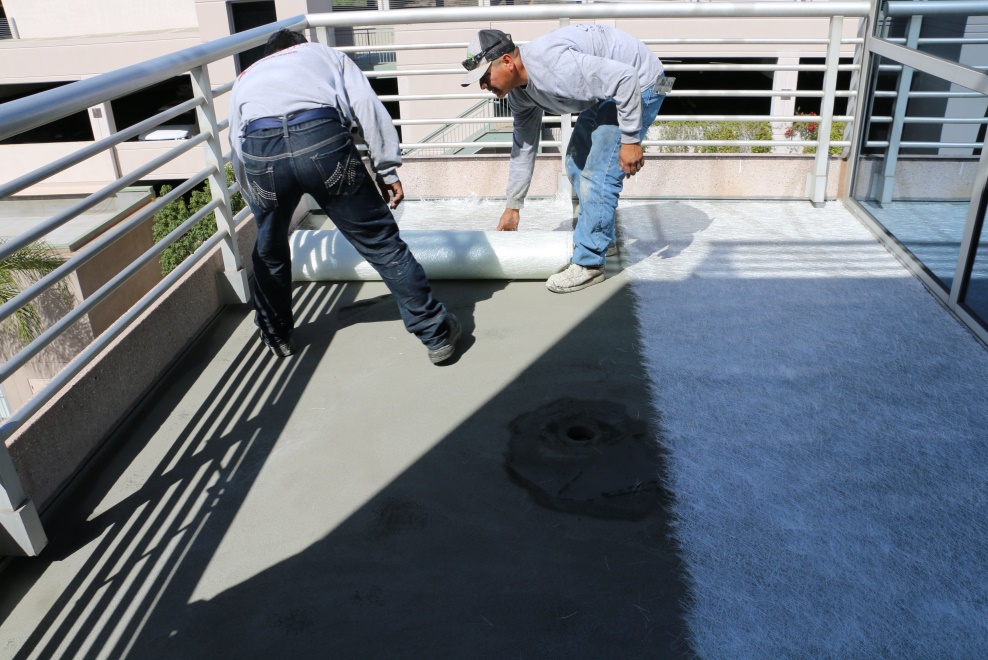 Our fully licensed, bonded, and insured crews apply a waterproof deck coating to the surface of your deck in a three-day process. Your deck will be walkable by the end of each day.
Once we're done, your deck is good to go and it will be both waterproof and fire retardant. Costs will vary depending on the deck size and the surface coating used.
Your deck will also look brand new, so it's a plus for your home's value. Waterproof decks also require less maintenance and stay much cleaner than unprotected surfaces, saving you money.
"How long will deck surface waterproofing protect my outdoor deck for?"
Our surface coatings are guaranteed to waterproof your deck for up to eight years. It's all backed by our service warranty and we stand by our work. That's why we're a leading provider of waterproofing and coating services in Los Angeles and Orange County.
Contact us at (424) 339-0953 for a free estimate.
As a deck owner, the last thing you want to have to deal with is water damage. Water can cause wood to rot, mold to grow, and your entire deck structure to grow weak and brittle, eventually becoming dangerous and possibly falling apart completely. That means it's in your best interests to regularly re-seal your deck. But how do you know it's the right time? Re-seal too early and you're just wasting time and money. Re-seal too late and your deck might sustain some serious damage before you do.
Here are a few of the signs that it's time to get it re-sealed.
Color Fading
This is arguably the most obvious sign that your deck needs to be re-sealed, especially here in California. Whether you have a wooden or composite deck at your home or a commercial deck build from pro-grade materials, the color will eventually start to fade over time. It should come as no surprise that the sun is not your deck's friend, and the UV radiation and other harsh light exposure can dry out materials and cause color to become bleached, causing it to fade. When you notice that your deck's color has seriously faded from what it once was, it's probably time to re-seal it and bring some of that color back.
Paint Flaking
If your deck surface is painted, the paint starting to flake off is a sure sign that the seal has faded away and need to be replaced. Once the protective seal has worn away, the sun tends to destroy paint fairly quickly, particularly thin coats. If you notice that the paint is starting to wear away or the natural color of your deck's material is starting to show through underneath, now's a good time to give our Los Angeles deck waterproofing team a call and schedule a re-sealing service.
Cracking & Splintering
The color may still seem vibrant and your paint may still seem to be in great shape, but neither of those things stand a chance of protecting your deck if the surface has cracked. Cracks allow moisture to seep down into the interior of your deck and start impacting it from the inside, speeding up the damage process and possibly causing your deck to experience a major problem sooner. If you notice cracking and splintering in your deck's surface, it's important to have it inspected as soon as possible to see if it's sustained any serious damage and then have it re-sealed if you're still in good condition.
Ponding/Standing Water
Have you noticed a particular spot on your deck water where water seems to pool up and create puddles each and every day? This tendency is known as "ponding" and is indicative of low-points in your deck's surface. It's also usually indicative of a point where the seal on your deck's surface has likely been compromised or worn down from constant water exposure. These areas tend to wear out the fastest and become some of the largest sources of damage for your deck, so it's in your best interests to get them fixed quickly. If you notice ponding on your deck, call a professional and have them resolve the problem for you and then provide you with a high-quality sealing service to reinforce the area and avoid the damage for good.
Do you need your deck surface re-sealed? Trust the professionals from Capital Deck & Stair Waterproofing! Call us at (310) 912-7737 to request a quote today!
Deck owners face a number of environmental threats, such as long hours of sunlight exposure, harsh rains, high winds, wear and tear from repeated use, and much more. However, many people forget about the ever-present threat of mold and mildew. These fungus organisms tend to form in places that are dark and constantly damp: conditions which are frequently found in the structure of your deck. On this blog, we'll explore why mold and mildew can be so damaging and what you can do to prevent them from harming your deck.
The Effects of Mold & Mildew
Mold and mildew in your deck should be treated with the same level of seriousness and urgency that you would show when you find these fungi in your own home: they can have the same damaging effects. For starters, both of these organisms require organic material to act as a food source in order to take root and spread, which includes wood. This makes mold and mildew extremely difficult to remove once it has taken root and also means it's a contributor to wood rot, an issue which could result in your deck structure weakening significantly.
Mold and mildew both have other effects as well. For starts, they have a distinct, musty smell that's difficult to mask or get rid of without getting rid of the substances completely. Likewise, while most of these fungi are harmless, black mold is toxic, and too much exposure could lead to serious health problems. You definitely wouldn't want that around your home, family, children, patrons, or anyone who comes in contact with your deck.
Defending Against Mold & Mildew
So what can you do to get rid of these problems or prevent them from forming in the first place? Prevention is the most effective way of getting rid of mold, so the best thing you can do is thoroughly waterproof your deck . Sealing your deck and protecting it from water intrusion means you'll deny mold spores one of the key components they need to take root and thrive: a water source. Thus, your deck will stay protected.
The next most important thing you should do is carefully inspect your deck for any cracks or areas where water may be able to penetrate down into your deck structure. Even a small crack can be enough for water to intrude and start causing mold to grow, so you should speak with a Los Angeles deck waterproofing and construction expert to inquire about resurfacing your deck and getting rid of a mold problem that may have emerged.
Finally, make sure your deck is properly sloped and that water flows in the direction you want it to. All decks should have some sort of a drainage system, so make sure no water can get stuck on your deck and accumulate into puddles (known as " ponding "), and be sure to get these spots repaired as soon as possible if you notice them.
Got a problem with your deck? Call Capital Deck & Stair Waterproofing at (310) 912-7737 to request an estimate for your repair, waterproofing, and sealing services.
Rooftop decks have exploded in popularity over the last several years, particularly in urban centers like Los Angeles. When land is at a premium, most property owners don't have the space to build a deck that's easily accessible on a lower level, but the roof often sits completely unoccupied. As a result, building owners construct beautiful decks that are not only enjoyable to be on, but provide sweeping views of the area around them.
While these decks might seem like a great idea, there are challenges to building and maintaining these decks that most owners aren't fully aware of. Here are just a few of those challenges that need to be taken into consideration when maintaining, upgrading, or building a new commercial rooftop deck.
Deck Usage
What do you want to do with your deck? Is it going to serve as a private lounge where you entertain only your highest clientele guests or those of your choosing? Or are you planning on using it as an open-air, elevated nightclub complete with a pool, open-air bar, tables, furniture, and more? If your deck is going to see a lot of use, you're going to want to build it from more durable, long-lasting materials. This invariably means higher costs and more maintenance, especially if your rooftop deck also has a pool, spa, or other water fixture. Don't forget, any leaks in your rooftop deck are also leaks into your building, which could do serious damage to the floors below.
Deck Height
How high off the ground is your rooftop? One story? Two stories? Or are you at the top of a sixty-plus story high-rise in the middle of downtown? This is something you need to strongly consider because it's going to have an impact on what it takes to both construct and maintain your deck. If you're looking to build a commercial deck on top of a high-rise building, you'll need to make sure you have room to operate a crane in the vicinity that can lift the materials you need up to the rooftop. Odds are the building elevator isn't going to have enough space to haul 20-foot joists up several hundred feet, or enough power to support several thousand pounds of concrete. Keep this in mind if you wish to build a new deck or even upgrade an old one to be better suited to commercial purposes.
Deck Drainage
Drainage is an important question if you're going to be converting a commercial flat roof into useable decks pace. Decks cannot be perfectly flat; they must have at least a little bit of slope to them in order to allow water to reach drains and avoid puddling up in different spots, causing leaks. Not only that, but to even get your building cleared by inspectors, you'll have to have this slope built in. Keep this in mind: if your roof slope isn't right at the outset of your deck construction project, it's going to cost you a considerable amount of extra time and money to ensure the proper slope and drainage is installed.
Deck Weight
If you're building your deck on your roof, are you positive your roof can handle the extra weight? Concrete is heavy. Water is heavy. Furniture, decorations, glass, and other materials are all heavy. All of this adds up in terms of weight, and puts a lot of strain on your building's structure. You may be tempted to use a lighter-weight material if structural limits are an issue, but lighter weight materials may not be able to handle the usage loads you're throwing at them.
Commercial rooftop decks can all benefit from a thorough, regular waterproof service that ensures your deck remains leak-free and durable in all types of weather. Call Capital Deck & Stair Waterproofing today at (310) 912-7737 to request a waterproofing service that's tailored to your needs!