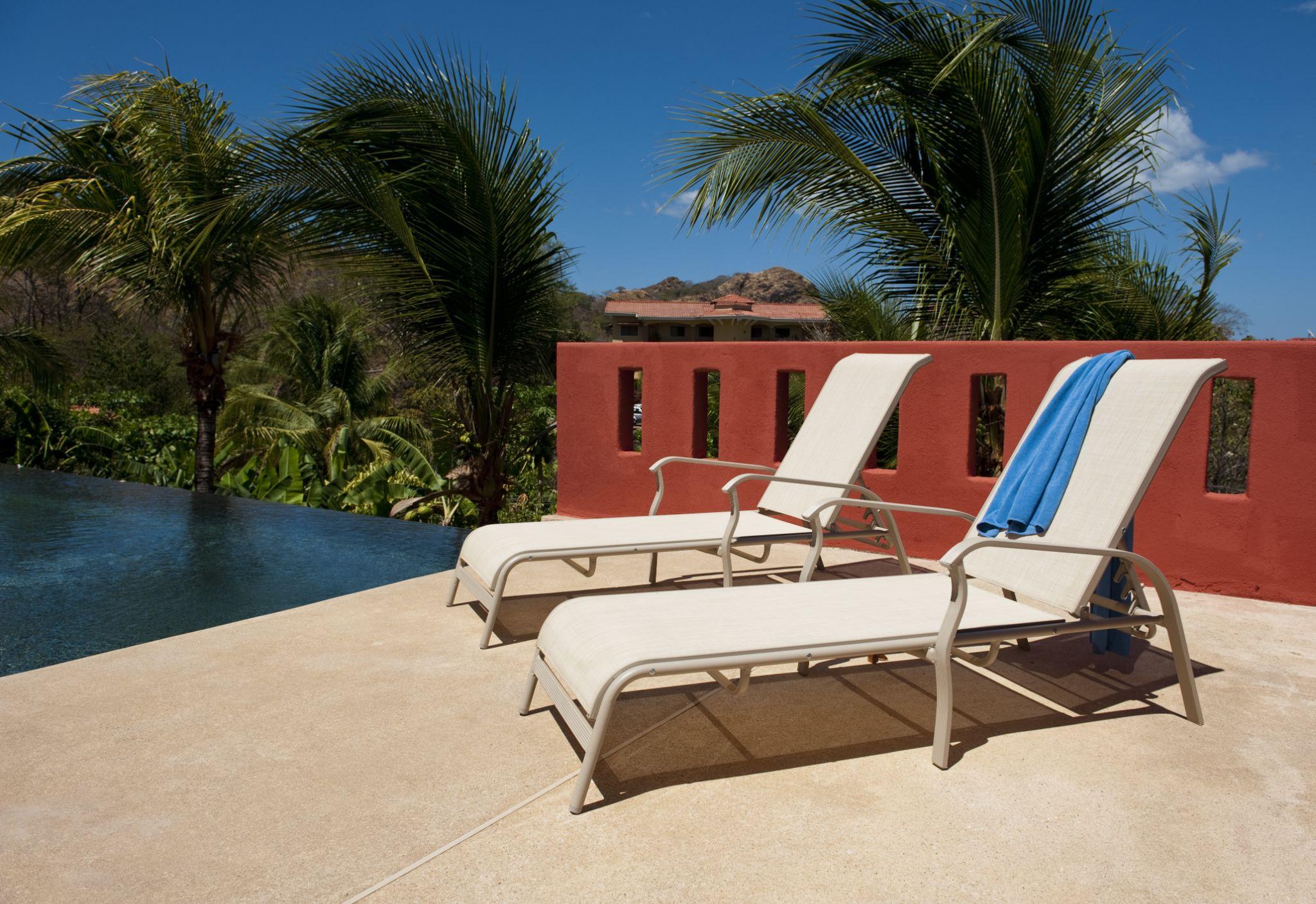 A fresh coat of paint is a great way to breathe new life and color into your concrete pool deck.
Since concrete easily takes to paint, texturing, and various surface finishes, there's plenty of possibilities when it comes to designing the perfect pool deck. With so many colors and designs to choose from, how do you know which options are best for your pool deck?
In this post, we'll run through some of the most popular concrete pool deck paint colors and designs and discuss how each choice can help your pool deck blend into its surroundings. Read on to learn more and discover the right color choice for your pool deck!
Benefits of Concrete Pool Deck Paint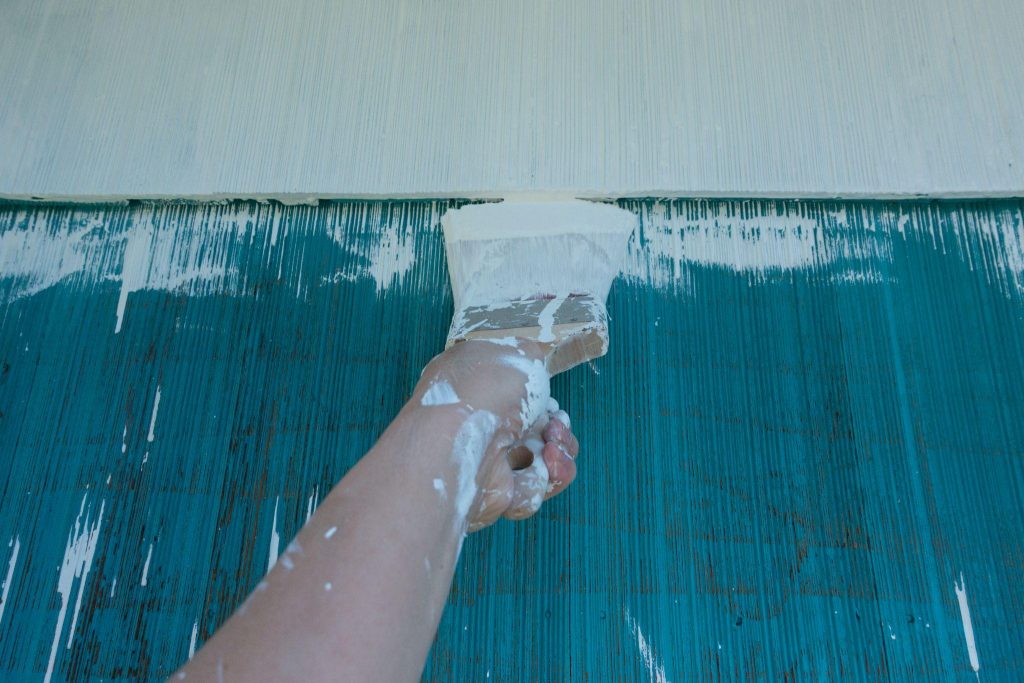 Apart from enhancing the overall beauty of your pool area, many homeowners are surprised to discover some of the time- and cost-saving benefits of concrete deck paint. Here are just a few:
Improves Beauty
Like a blank canvas, unfinished concrete quickly becomes strikingly beautiful with the right coat of paint. The benefit isn't limited to the concrete itself, however. By selecting a color that coordinates with the surrounding area, a painted pool deck can also improve the overall beauty and appearance of your pool area.
Easy to Apply
Concrete is incredibly easy to paint, thanks in part to its porous surface. With the right team and painting equipment, most concrete pool decks can be painted within an afternoon. Combined with a final coat of deck waterproofing, it only takes a day to secure the beauty and strength of your concrete surfaces for years to come.
Inexpensive
While costs vary depending on paint types and deck sizes, one thing is usually true: Concrete pool deck paint is one of the most cost-effective ways to finish your pool deck. This cost-effectiveness becomes especially apparent when comparing other pool deck materials and finishes. Where wood and masonry decks require expensive finishes and time-consuming application, concrete decks are quick, easy, and inexpensive to paint.
Protects Surfaces
Combined with a top coat of waterproof deck coating, a coat of paint can protect concrete from pool water, rain, and other potential vectors for water damage. Paints, waterproof coatings, and other surface finishes are especially important for preserving the strength and beauty of concrete. While concrete's porosity makes it easy to apply paint, it also makes it especially susceptible to water infiltration and damage. As a result, deck paints and waterproof coatings aren't just nice add-ons—they're essential for preserving your deck!
5 Most Popular Colors for Concrete Pool Deck Paint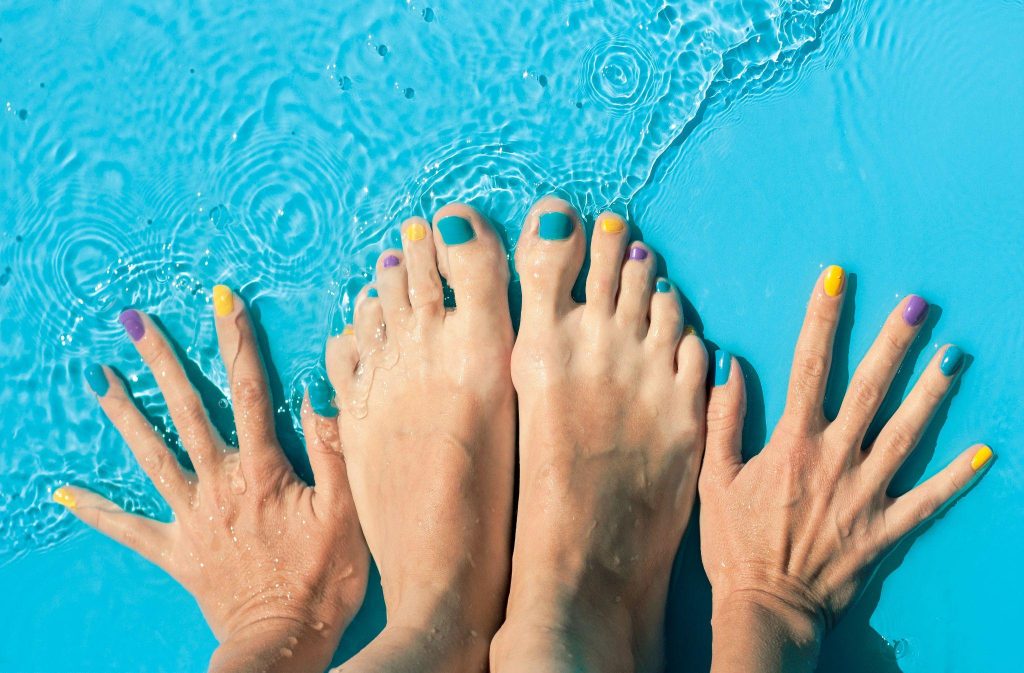 Whether you want your concrete deck to blend into its surroundings or completely pop with color, one of these popular colors can help:
1. Whites and Off-Whites
Perhaps the most classic pool deck colors, whites, off-whites, and beiges evoke images of soft, sandy beaches. Whites and other light colors also naturally reflect the sun, keeping the surface refreshingly cool on hot days. Many people also prefer shades of whites for their neutrality, which is useful for those who don't want the pool deck to draw attention away from surrounding structures.
2. Blues and Grays
As the colors most closely associated with water and the sea, blues and grays are excellent choices for a pool deck color. While unfinished concrete is gray, adding a deeper or lighter gray provides a smoother, cleaner appearance with all the extra benefits of concrete pool deck paint, of course. Blues provide a similar upgrade; however, certain tints may be especially complementary to the brilliant blue of the swimming pool itself.
3. Tans and Browns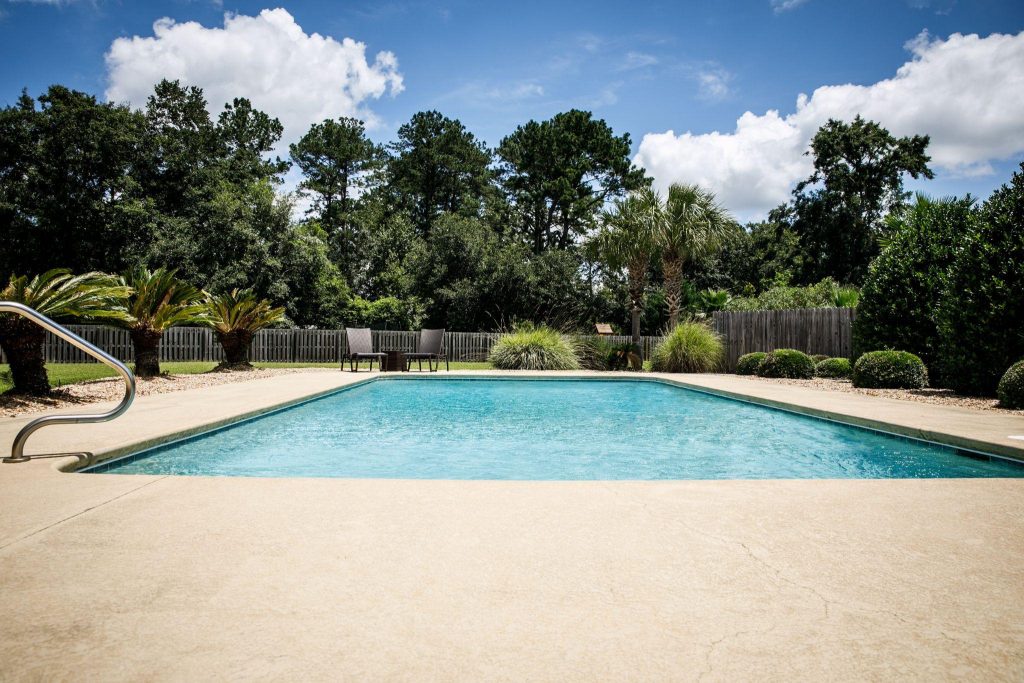 Tans and browns are a great way to replicate traditional masonry and other earthy surroundings.
Where reddish-brown and tans can make a concrete slab look like terracotta masonry, light and dark shades of brown can replicate dirt and earth. If you're looking to make your pool look like a desert oasis or a swimming hole, these are the colors for you.
4. Color Mixtures
Why stick with just one color? With multiple colors, you can create all kinds of pleasing patterns and creative combinations. From free-flowing floral patterns to strong geometric shapes, your concrete pool deck serves as a blank canvas for your ideas. Plus, with an additional layer of deck waterproofing, you can preserve your designs for years to come.
5. Bold Colors
If you really want to make your pool deck "pop," consider using bright and bold colors. Though your pool deck won't blend in as well with the surroundings, that could be a benefit if you have a uniquely shaped pool deck. In some cases, it may also make sense to match the pool deck color to surrounding structures.
Concrete Pool Deck Paint Design Ideas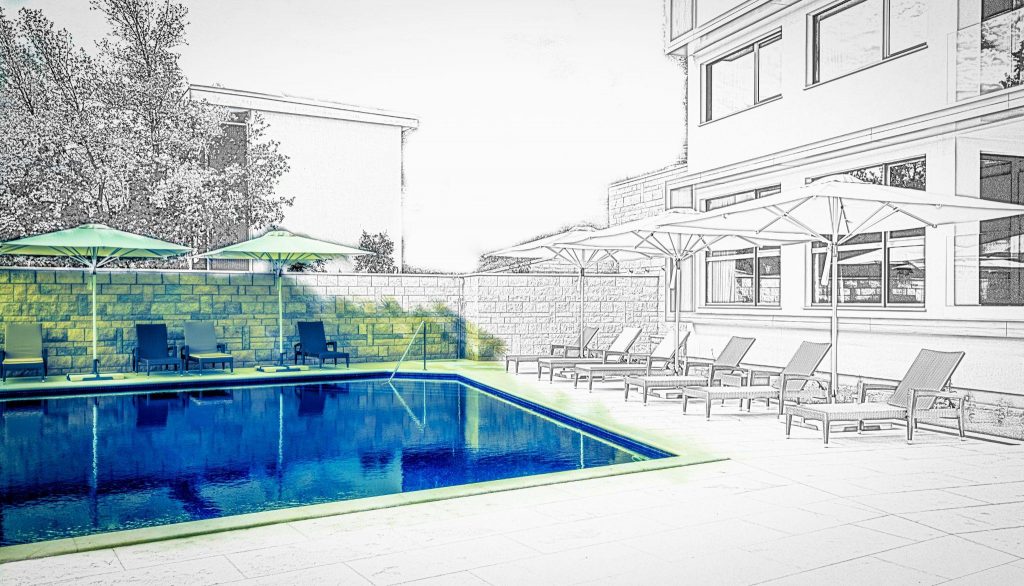 Unlike other pool deck materials, poured concrete offers a solid, flat surface without planks or tiles. As a result, the design and appearance of your concrete pool deck is entirely up to you. Here are just a few popular design ideas to get you started:
Solid Color with Trim
Perhaps the most popular design choice, a solid color with a contrasting trim is timeless, sophisticated, and easy to achieve. While the trim is usually either a lighter or darker shade of the deck color, there's no reason you can't use a completely different color. One popular example is a solid white deck with a bright blue trim—a combination popular in coastal Greece.
Faux Tiles
Why fuss with messy grout and expensive tiles when you can just paint them on? Though this idea might sound a bit tacky, it's surprisingly convincing when using colors that replicate natural stone. By blending and mixing different earthy colors, you can give your solid concrete the look of a hand-laid masonry patio at a fraction of the cost.
Geometric Patterns
While square, tile-like patterns are great choices for pool decks, you can also use paint to create geometric patterns of other shapes. One popular example is a repeating hexagonal pattern, where each hexagon forms an individual tile. Using different shades of paint, you can alternate colors across the deck and even create a color gradient that gradually changes between the edges of your deck. The possibilities are endless!
Floral Patterns
If a repeating geometric pattern seems a little too traditional, a floral pattern is a great alternative. Whether you choose to embellish your concrete deck with an intricate network of budding vines or simply paint a border of flowers, floral patterns are always a dazzling choice. While they may take a bit more work than geometric patterns, they're worth the effort if you have a particularly "flowery" design in mind.
Pattern Combinations
Solid? Geometric? Floral? Why choose one when you can choose them all! There are many ways to combine popular pool deck patterns. For example, a solid grid of square "tiles" is easily improved by adding floral embellishments along its borders. Similarly, a solid color can be accentuated with a border of either repeating shapes or floral patterns or pretty much anything else you might think of.
How to Apply Concrete Pool Deck Paint to an Existing Deck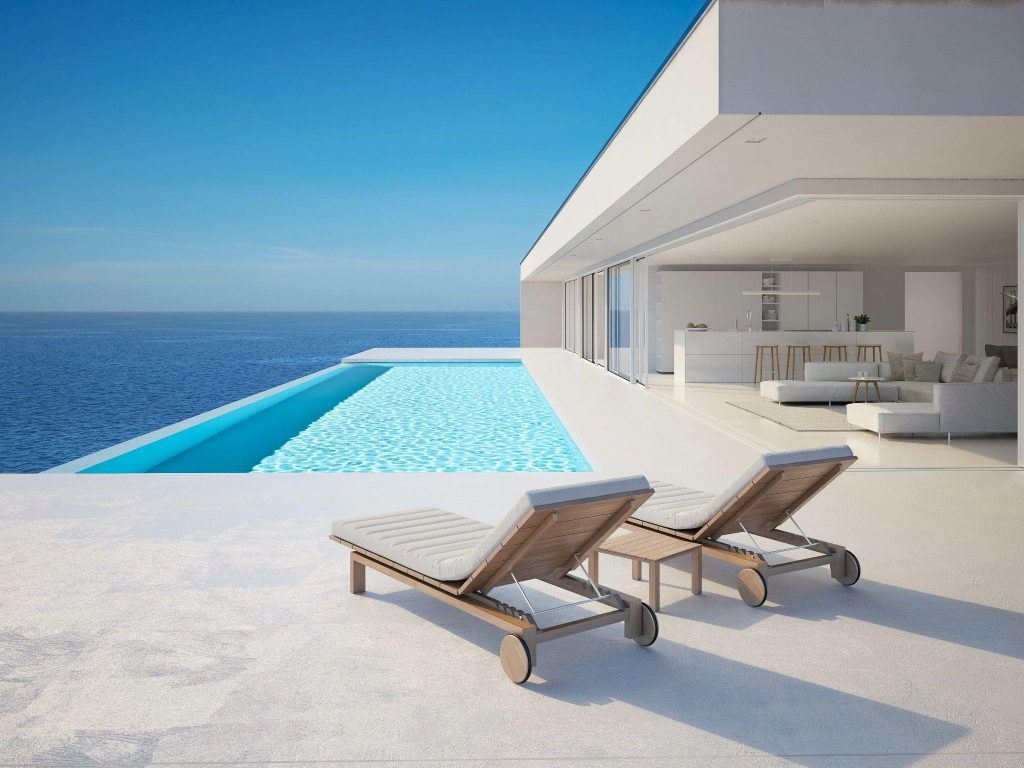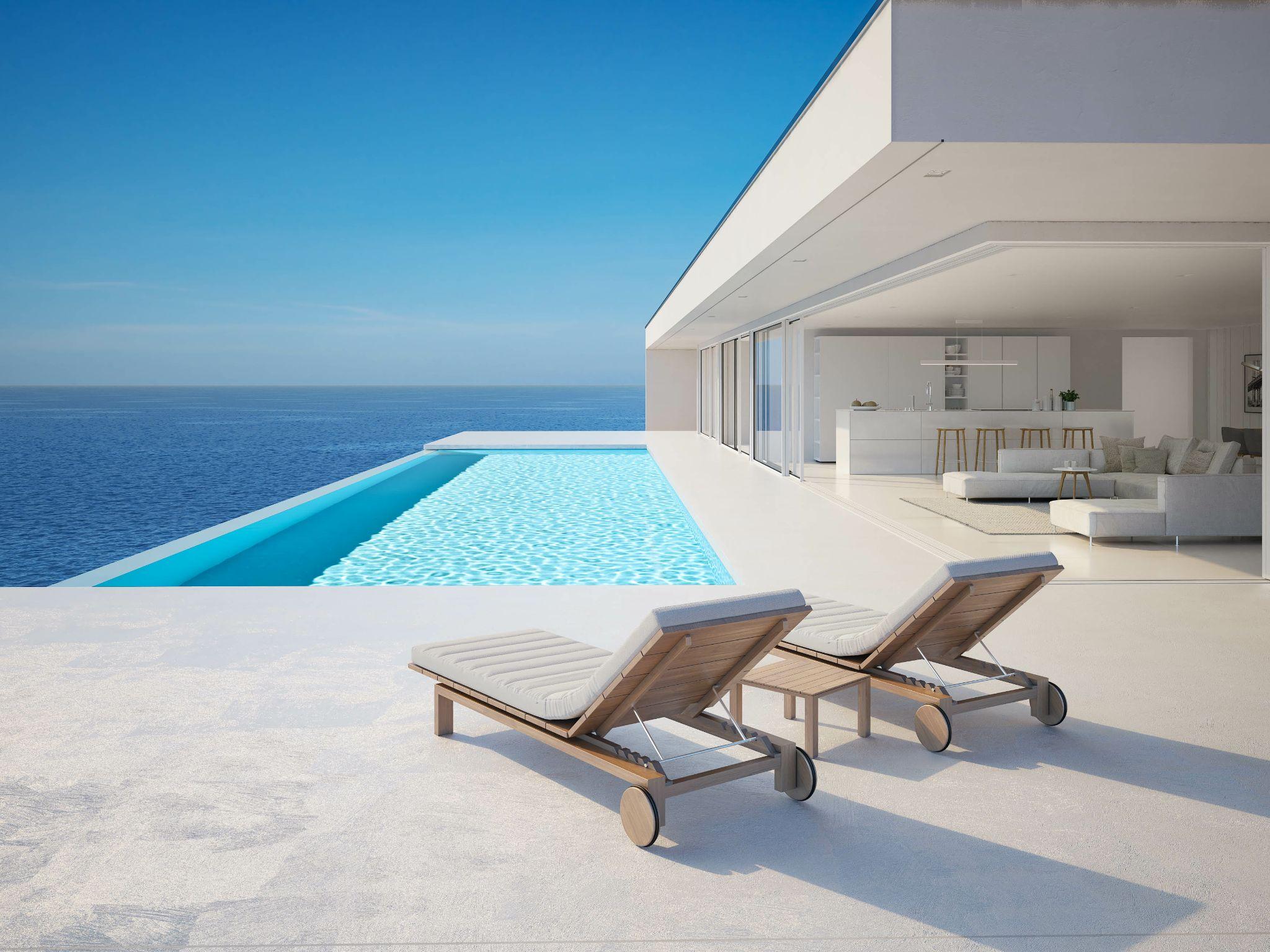 No matter what color or design you choose, the pool deck painting process is usually the same.
Like any  surface finishing job, one of the biggest steps of the painting process is surface preparation. Here, your concrete pool deck must be completely cleaned and even stripped of existing finishes before painting can begin.
Once the surface is ready, painting can begin. While solid colors are easily applied with a spray gun or roller, more intricate patterns, including geometric and floral elements, may require a little more work. Thankfully, it's easy to use a template to quickly apply patterns of the perfect size and shape.
With your concrete pool deck painted to your liking, it's time to protect your investment with a coat of deck waterproofing. Waterproofing not only protects your paint, however: It also prevents water from seeping into the porous concrete underneath.
The right waterproof coating applied the right way can secure the beauty and strength of your concrete pool deck for years to come. Though you'll need to apply a new coat at one point, reapplication is just as effective and easy as the first coat.
Protect Your Paint with Pool Deck Waterproofing from Capital Deck & Stair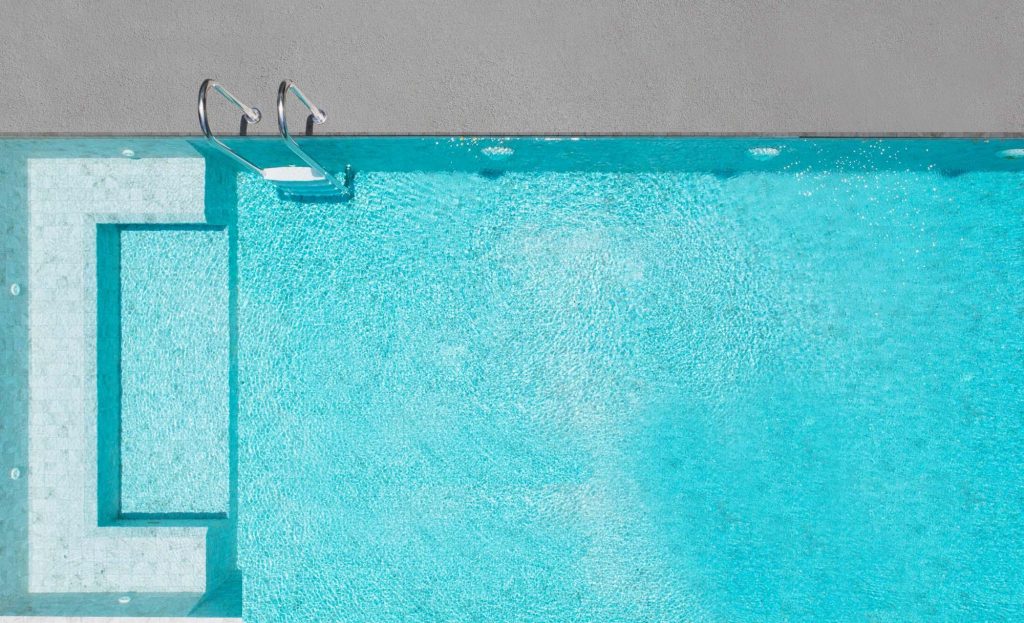 Though it's possible to paint your own deck and even apply your own waterproofing, only an expert team can guarantee great results and an attractive finish. For over 30 years, the Capital Deck & Stair team has provided waterproofing services for homes and businesses throughout Southern California. All of our work is backed by a warranty and the same quick, professional service that our customers have come to rely on.
For more information and to receive a free estimate, call Capital Deck & Stair at (424) 339-0953 or visit our pool deck waterproofing page.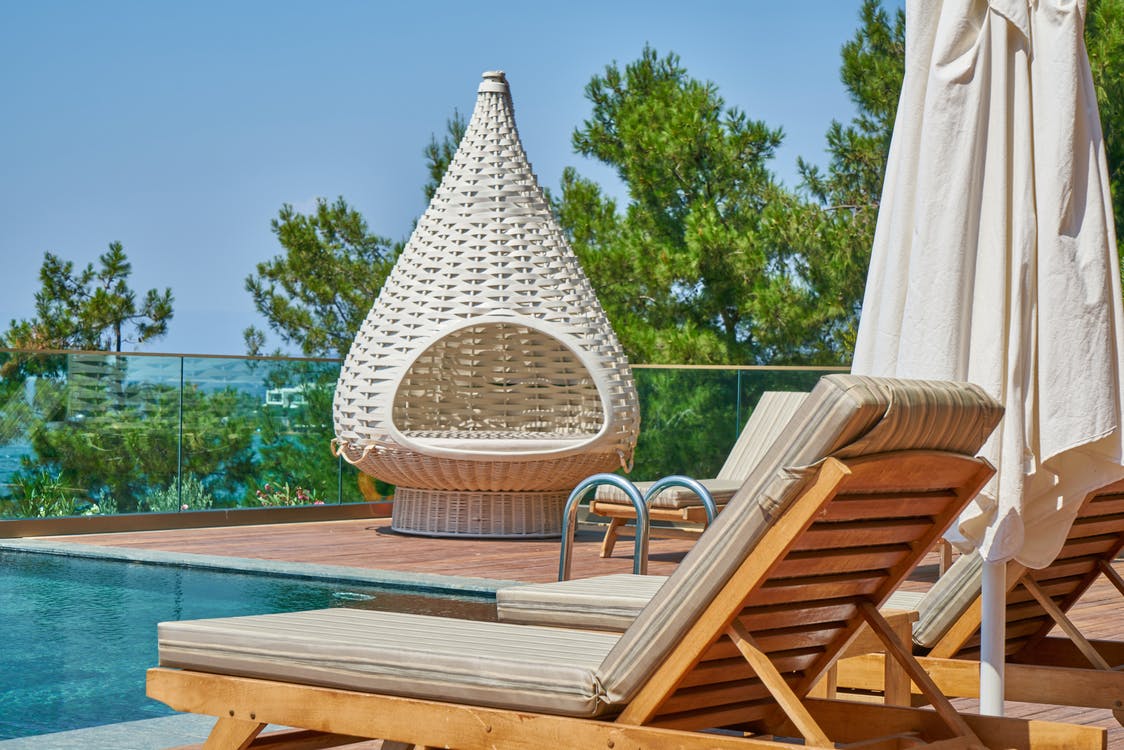 The ideal pool deck should strike a perfect balance between form and function, serving as a visually stunning gathering place while also providing a safe surface for (wet) foot traffic. As a result, there's a lot to consider when designing your pool deck. This short guide will explore a few of the most crucial considerations.
Size
The size of your pool deck is ultimately determined by the size of your pool. There's no exact formula here, however: Just as you probably wouldn't build a foot-wide path around your pool, you probably wouldn't build a deck the size of a parking lot.
Ideally, your pool deck should surround most of the pool while also providing space for additional walkways (such as to and from the house) and any patio/sitting areas you'd like to have. Again, size is determined by both the size of your pool and, perhaps most importantly, how you'll plan to enjoy it.
Appearance and Aesthetics
Just like with size, your pool will help determine the aesthetics of your deck. An above-ground pool, for example, will likely require a raised deck surrounding it, which will probably connect to a new or existing deck extending off your house. By contrast, an in-ground pool often utilizes a patio-like deck surface.
In any case, you have a lot of options when it comes to choosing the appearance of your pool deck. While you should try to match both the house and your landscaping, many pool decks can serve as an aesthetic foundation for your entire property. As a result, you should be careful to consider the appearance of your deck, knowing that it will easily become a focal point!
Materials and Durability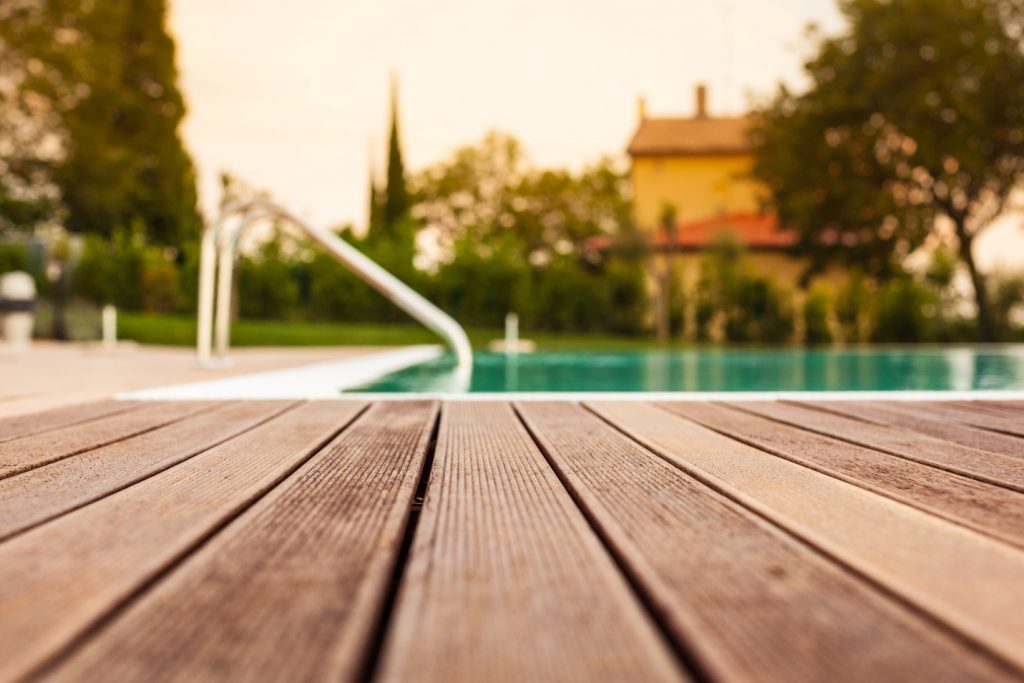 While the materials you use are ultimately determined by the type of deck you'll build, you still have plenty of options with each type. For example, an above-ground pool deck is almost always built from a wood (or synthetic) decking material, but this category ranges from natural wood to waterproof decking material.
By contrast, most patios and low-lying decks are built from stone, bricks, and other masonry materials. However, many homeowners are switching to waterproof decking materials for low decks due to their ease of installation and maintenance.
Weather Considerations
Local weather patterns and seasonal changes are extremely important to consider when designing your deck. While Californians enjoy great weather year-round, those in colder areas should consider cold- and weather-proof decking materials and designs. This consideration often rules out natural wood, which can shift and warp with changes in temperature and humidity.
In any case, however, rain-proofing and waterproof deck coatings are essential for protecting your investment from long-term damage.
Maintenance
Finally, the design of your deck should minimize maintenance over time—something which is mostly dependent on your choice of materials and surface treatments. Regardless of where you live, your pool deck will see a lot of water and moisture, whether it's from the pool water or the weather.
To minimize your deck's maintenance over time, use pool deck coatings and waterproof decking materials.
Using a Professional Service
Whether you're using natural wood or a waterproof deck material, a waterproof deck coating can help improve the longevity and durability of your new pool deck. For more information on our deck coating services, call our team at 424-339-0953.
With people spending more time at home, now is a great time to prepare your pool for the spring and summer. In some places, warmer summer-like weather is already here. Take this opportunity to consider pool deck waterproofing and other maintenance. Getting your pool ready will give you and your kids something to enjoy outdoors from the safety and comfort of your home.
Step 1: Clean the Water
It can be tempting to drain the water and start over, but you don't have to. Draining the water is not only time-consuming but will make a huge impact on your water bill when you refill it later. Instead, get the right chemicals to clean the water to remove algae and other impurities.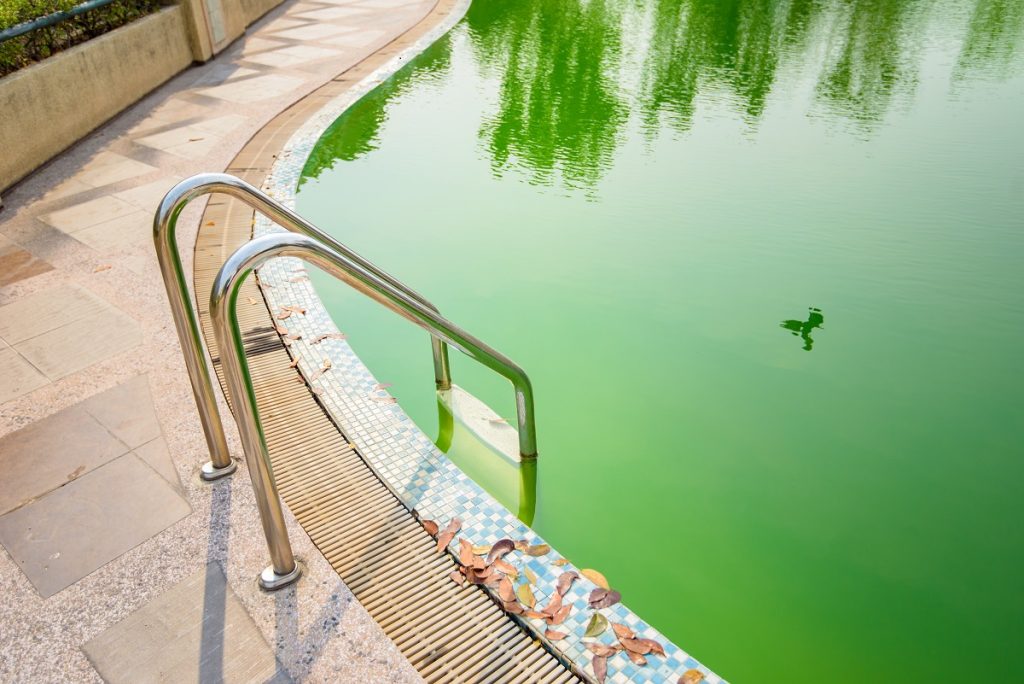 Step 2: Clean the Pool
After the water is clear, you may notice algae and other things stuck to the sides and bottom. Use a scrub brush to remove stuck-on algae and other debris. For leaves and other floating debris, use a pool skimmer net. If you have a pool vacuum, you can also use that to help clean the pool.
Step 3: Change the Filters
If your pool water is dirty, make sure to change the filters several times as the pool cycles. You also want to check the filters and change them after cleaning the pool. Once the water is clear and the pool is clean, install a new set of filters.
Step 4:  Inspect and Clean the Filtration System
Check for water leaks and make sure leaves and other debris are not covering the pool filtration system. Have a pool maintenance professional lubricate the moving parts and components on the pool pump and filtration system.
Step 5: Clean the Pool Deck
You want to make sure your pool deck is clean before using your pool. Otherwise, if there is dirt, debris, or leaves, these things will just get tracked into the pool. Depending on the type of pool deck you have, you may be able to power-wash it down. If not, you can use a garden hose and scrub brush to wash it down.
Step 6: Perform Pool Deck Maintenance
Pool deck maintenance involves checking to ensure there are no cracks, chips, or other potential safety hazards. If the pool deck is looking a little worse for the wear, you can get pool deck waterproofing, which is resurfacing and restoring the appearance of pool deck surfaces.
Step 7: Top Off the Water
If you need to add water to the pool, do so after completing all the other pool preparation steps. Make sure to fill the pool up to the necessary level but don't overfill it.
Step 8: Test and Balance the Chemicals
You need to test the water and check chemical levels to ensure they are correct. If not, add the required amount and retest until the water is balanced. Allow your pool filtration system to run for at least 24 hours after adding chemicals before retesting.
Step 9: Invest in a New Pool Cover
Using a pool cover not only slows the evaporation of water but also helps keep out dirt, dust, leaves, and other debris.
Step 10: Enjoy Your Pool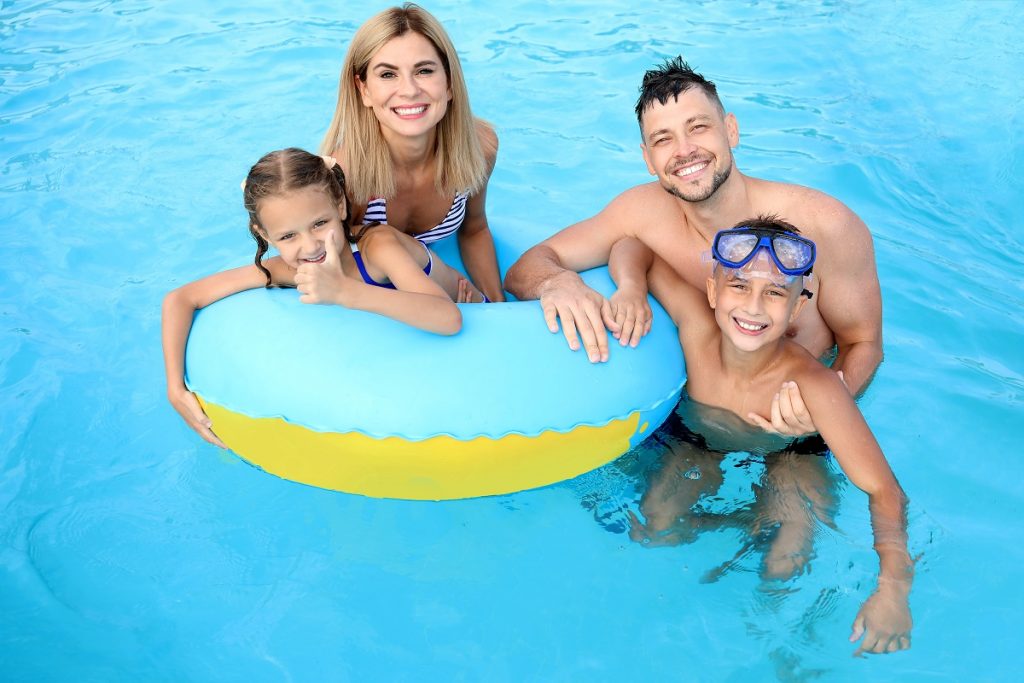 Now that your pool is ready to use, you can start enjoying it for afternoon swims, relaxing on the water while reading your favorite book, and playtime with the kids.
For professional pool deck maintenance, pool deck waterproofing, resurfacing, repairs, and restoration in the Greater Los Angeles Area, please feel free to contact Capital Deck & Stair for waterproofing at (424) 339-0953 today!